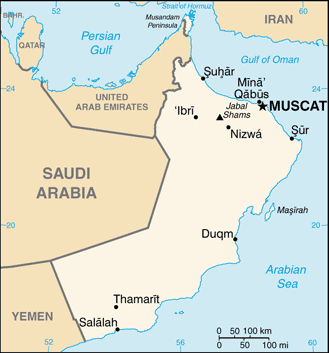 Aglow Status: Restricted
(The term "Restricted Nation" as used in Aglow is a nation where it is difficult or dangerous to be a Christian. Therefore the status of Aglow in nations indicated as Restricted is withheld.)
Capital: Muscat
Pray:
Pray for all the resources and creativity needed to fulfill the intentions of God in the nation of Oman.
Pray for godly government leaders. Blessed is the nation whose God is The Lord, the people whom He has chosen for His own inheritance. Psalm 33:12
Proclaim:
Arise, shine; for your light has come! And the glory of the LORD is risen upon you. For behold, the darkness shall cover the earth, and deep darkness the people; but the LORD will arise over you, and His glory will be seen upon you. Isaiah 60:1,2 (NKJV)
Lift up your heads, O you gates! Lift up, you everlasting doors! And the King of glory shall come in. Who is this King of glory? The Lord of hosts, He is the King of glory. Selah Psalm 24:9-10 (NKJV)
Interesting Facts About Oman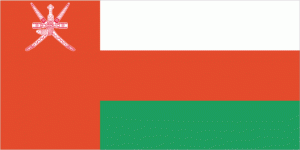 Background: The inhabitants of the area of Oman have long prospered from Indian Ocean trade. In the late 18th century, the nascent sultanate in Muscat signed the first in a series of friendship treaties with Britain. Over time, Oman's dependence on British political and military advisors increased, although the sultanate never became a British colony. In 1970, QABOOS bin Said Al-Said overthrew his father, and has since ruled as sultan. Sultan QABOOS has no children and has not designated a successor publicly; the Basic Law of 1996 outlines Oman's succession procedure. Sultan QABOOS' extensive modernization program opened the country to the outside world, and the sultan has prioritized strategic ties with the UK and US. Oman's moderate, independent foreign policy has sought to maintain good relations with its neighbors and to avoid external entanglements.
Inspired by the popular uprisings that swept the Middle East and North Africa beginning in January 2011, some Omanis staged demonstrations, calling for more jobs and economic benefits and an end to corruption. In response to those protester demands, QABOOS in 2011 pledged to implement economic and political reforms, such as granting Oman's bicameral legislative body more power and authorizing direct elections for its lower house, which took place in November 2011. Additionally, the Sultan increased unemployment benefits, and, in August 2012, issued a royal directive mandating the speedy implementation of a national job creation plan for thousands of public and private sector Omani jobs. As part of the government's efforts to decentralize authority and allow greater citizen participation in local governance, Oman successfully conducted its first municipal council elections in December 2012. Announced by the sultan in 2011, the municipal councils have the power to advise the Royal Court on the needs of local districts across Oman's 11 governorates. Sultan QABOOS, Oman's longest reigning monarch, died on 11 January 2020. His cousin, HAYTHAM bin Tariq bin Taimur Al-Said, former Minister of Heritage and Culture, was sworn in as Oman's new sultan the same day.
Government Type: absolute monarchy
Population: 3,694,755 (July 2021 est.)
Ethnic Groups: Arab, Baluchi, South Asian (Indian, Pakistani, Sri Lankan, Bangladeshi), African
Languages: Arabic (official), English, Baluchi, Swahili, Urdu, Indian dialects
Religions: Muslim 85.9%, Christian 6.5%, Hindu 5.5%, Buddhist 0.8%, Jewish <0.1%, other 1%, unaffiliated 0.2% (2010 est.)
Interesting Facts information from the cia.gov website. Read more about Oman