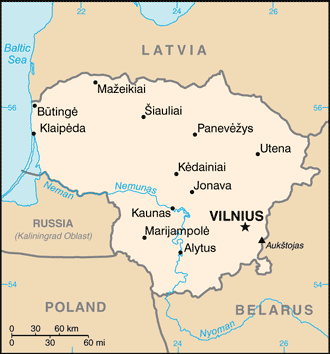 Aglow Leader: Bozena Jeriomenko
Capital: Vilnius
Pray:
Pray for the Aglow groups and leaders to be strengthened.
Pray for all the resources and creativity needed to fulfill the intentions of God in the nation of Lithuania.
Pray for the Aglow prayer group in the Capital city.
Pray for godly government leaders. Blessed is the nation whose God is The Lord, the people whom He has chosen for His own inheritance. Psalm 33:12
Proclaim:
Arise, shine; for your light has come! And the glory of the LORD is risen upon you. For behold, the darkness shall cover the earth, and deep darkness the people; but the LORD will arise over you, and His glory will be seen upon you. Isaiah 60:1,2 (NKJV)
Lift up your heads, O you gates! Lift up, you everlasting doors! And the King of glory shall come in. Who is this King of glory? The Lord of hosts, He is he King of glory. Selah Psalm 24:9-10 (NKJV)
Interesting Facts About Lithuania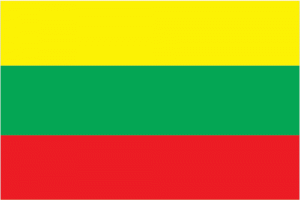 Background: Lithuanian lands were united under MINDAUGAS in 1236; over the next century, through alliances and conquest, Lithuania extended its territory to include most of present-day Belarus and Ukraine. By the end of the 14th century Lithuania was the largest state in Europe. An alliance with Poland in 1386 led the two countries into a union through the person of a common ruler. In 1569, Lithuania and Poland formally united into a single dual state, the Polish-Lithuanian Commonwealth. This entity survived until 1795 when its remnants were partitioned by surrounding countries. Lithuania regained its independence following World War I but was annexed by the USSR in 1940 – an action never recognized by the US and many other countries. On 11 March 1990, Lithuania became the first of the Soviet republics to declare its independence, but Moscow did not recognize this proclamation until September of 1991 (following the abortive coup in Moscow). The last Russian troops withdrew in 1993. Lithuania subsequently restructured its economy for integration into Western European institutions; it joined both NATO and the EU in the spring of 2004. In 2015, Lithuania joined the euro zone, and it joined the Organization for Economic Cooperation and Development in 2018.
Government Type: semi-presidential republic
Population: 2,711,566 (July 2021 est.)
Ethnic Groups: Lithuanian 84.1%, Polish 6.6%, Russian 5.8%, Belarusian 1.2%, other 1.1%, unspecified 1.2% (2011 est.)
Languages: Lithuanian (official) 82%, Russian 8%, Polish 5.6%, other 0.9%, unspecified 3.5% (2011 est.)
Religions: Roman Catholic 77.2%, Russian Orthodox 4.1%, Old Believer 0.8%, Evangelical Lutheran 0.6%, Evangelical Reformist 0.2%, other (including Sunni Muslim, Jewish, Greek Catholic, and Karaite) 0.8%, none 6.1%, unspecified 10.1% (2011 est.)
Interesting Facts information from the cia.gov website. Read more about Lithuania