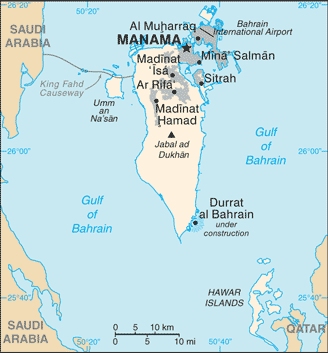 Aglow Status: Restricted
(The term "Restricted Nation" as used in Aglow is a nation where it is difficult or dangerous to be a Christian. Therefore the status of Aglow in nations indicated as Restricted is withheld.)
Capital: Manama
Pray:
Pray for all the resources and creativity needed to fulfill the intentions of God in the nation of Bahrain.
Pray for godly government leaders.
Blessed is the nation whose God is The Lord, the people whom He has chosen for His own inheritance.
Proclaim:
Arise, shine; for your light has come! And the glory of the LORD is risen upon you. For behold, the darkness shall cover the earth, and deep darkness the people; but the LORD will arise over you, and His glory will be seen upon you. Isaiah 60:1,2 (NKJV)
Lift up your heads, O you gates! Lift up, you everlasting doors! And the King of glory shall come in. Who is this King of glory? The Lord of hosts, He is the King of glory. Selah Psalm 24:9-10 (NKJV)
Interesting Facts About Bahrain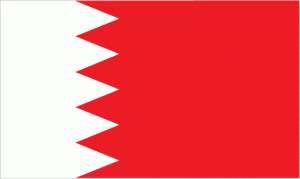 Background: In 1783, the Sunni Al-Khalifa family captured Bahrain from the Persians. In order to secure these holdings, it entered into a series of treaties with the UK during the 19th century that made Bahrain a British protectorate. The archipelago attained its independence in 1971. Facing declining oil reserves, Bahrain has turned to petroleum processing and refining and has become an international banking center.
Bahrain's small size and central location among Persian Gulf countries require it to play a delicate balancing act in foreign affairs among its larger neighbors. The Sunni-led government has struggled to manage relations with its large Shia-majority population. In early 2011, amid Arab uprisings elsewhere in the region, the Bahraini Government confronted similar protests at home with police and military action.
The aftermath led to modest reforms, though continued dissatisfaction by Bahraini oppositionists with the extent of the reforms, has led to a broader dialogue between government officials, political societies, and legislators.
Government Type: constitutional monarchy
Population: 1,281,332 July 2013 est.
Ethnic Groups: Bahraini 46%, non-Bahraini 54% (2010 census)
Languages: Arabic (official), English, Farsi, Urdu
Religions: Muslim (Shia and Sunni) 81.2%, Christian 9%, other 9.8% (2001 census)
Interesting Facts information from the cia.gov website. Read more about Bahrain