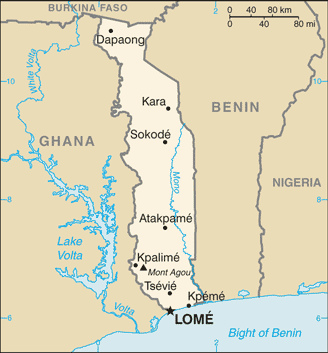 Aglow Leader: Agnes Akouvi EHO-JOHNSON
National Board President
Capital: Lome
Pray:
Pray for the Aglow groups and leaders to be strengthened.
Pray for all the resources and creativity needed to fulfill the intentions of God in the nation of Togo.
Pray for the Aglow prayer group in the Capital city.
Pray for godly government leaders. Blessed is the nation whose God is The Lord, the people whom He has chosen for His own inheritance. Psalm 33:12
Proclaim:
Arise, shine; for your light has come!  And the glory of the LORD is risen upon you.  For behold, the darkness shall cover the earth, and deep darkness the people; but the LORD will arise over you, and His glory will be seen upon you.  Isaiah 60:1,2 (NKJV)
Lift up your heads, O you gates! Lift up, you everlasting doors! And the King of glory shall come in. Who is this King of glory? The Lord of hosts, He is he King of glory. Selah Psalm 24:9-10 (NKJV)
Interesting Facts About Togo
Background: From the 11th to the 16th centuries, various ethnic groups settled the Togo region. From the 16th to the 18th centuries, the coastal region became a major slave trading center and the surrounding region took on the name of "The Slave Coast." In 1884, Germany declared a region including present-day Togo as a protectorate called Togoland. After World War I, rule over Togo was transferred to France. French Togoland became Togo upon independence in 1960. Gen. Gnassingbe EYADEMA, installed as military ruler in 1967, ruled Togo with a heavy hand for almost four decades. Despite the facade of multi-party elections instituted in the early 1990s, the government was largely dominated by President EYADEMA, whose Rally of the Togolese People (RPT) party has been in power almost continually since 1967 and its successor, the Union for the Republic, maintains a majority of seats in today's legislature. Upon EYADEMA's death in February 2005, the military installed the president's son, Faure GNASSINGBE, and then engineered his formal election two months later. Democratic gains since then allowed Togo to hold its first relatively free and fair legislative elections in October 2007. Since 2007, President GNASSINGBE has started the country along a gradual path to democratic reform. Togo has since held multiple presidential and legislative elections deemed generally free and fair by international observers. Despite those positive moves, political reconciliation has moved slowly, and the country experiences periodic outbursts of violent protest by frustrated citizens. Recent constitutional changes to institute a runoff system in presidential elections and establish term limits has done little to reduce the resentment many Togolese feel after over 50 years of one-family rule.
Government Type: presidential republic
Population: 8,283,189 (July 2021 est.)
Ethnic Groups: Adja-Ewe/Mina 42.4%, Kabye/Tem 25.9%, Para-Gourma/Akan 17.1%, Akposso/Akebu 4.1%, Ana-Ife 3.2%, other Togolese 1.7%, foreigners 5.2%, no response .4% (2013-14 est.)
Languages: French (official, the language of commerce), Ewe and Mina (the two major African languages in the south), Kabye (sometimes spelled Kabiye) and Dagomba (the two major African languages in the north)
Religions: Christian 43.7%, folk 35.6%, Muslim 14%, Hindu <.1%, Buddhist <.1%, Jewish <.1%, other .5%, none 6.2% (2010 est.)
Interesting Facts information from the cia.gov website. Read more about Togo