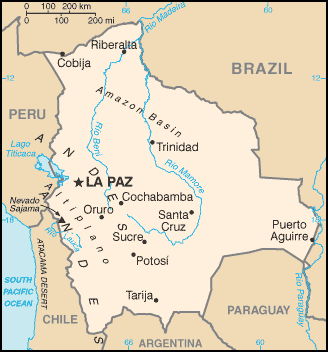 Aglow Leader:
Patricia E. Cortés Gordillo de Cervantes
National Board President
Capital: La Paz (administrative capital)
Pray:
There have been predictions of an earthquake in La Paz as judgment for the idolatry of pagan Andean beliefs.  Pray for redemption of the land that stops such judgment.  Pray that God's grace protects the people and land of Bolivia.
For it is God who is at work in you, both to will and to work for His good pleasure. – Philippians 2:13
If two of you agree on earth about anything that they may ask, it shall be done for them by My Father who is in heaven.  For where two or three have gathered together in My name, I am there in their midst. – Matthew 18:19-20
Pray for God to guide the leaders of Bolivia in support of the Church in decisions regarding bill "LEY 351" which aims to limit religious freedom.  May the hearts of the people be heard.
Pray for Bolivia Aglow to maintain unity in faith and to walk in one spirit and like-mindedness.  May God increase Aglow in Bolivia to partner with the establishment of God's Kingdom in the nation.
Proclaim:
We proclaim that Bolivia first seeks God's Kingdom and justice.
Seek first His kingdom and His righteousness, and all these things will be added to you. – Matthew 6:33
We proclaim that Bolivia is filled with the knowledge of God's will.
For this reason also, since the day we heard of it, we have not ceased to pray for you and to ask that you may be filled with the knowledge of His will in all spiritual wisdom and understanding. – Colossians 1:9
We proclaim that God's grace and kindness embraces Bolivia.  His Kingdom will be established in this nation.
Interesting Facts About Bolivia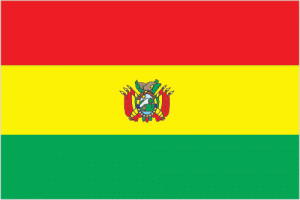 Background: Bolivia, named after independence fighter Simon BOLIVAR, broke away from Spanish rule in 1825; much of its subsequent history has consisted of a series of coups and countercoups, with the last coup occurring in 1978. Democratic civilian rule was established in 1982, but leaders have faced difficult problems of deep-seated poverty, social unrest, and illegal drug production.
In December 2005, Bolivians elected Movement Toward Socialism leader Evo MORALES president – by the widest margin of any leader since the restoration of civilian rule in 1982 – after he ran on a promise to change the country's traditional political class and empower the nation's poor, indigenous majority. In December 2009 and October 2014, President MORALES easily won reelection. His party maintained control of the legislative branch of the government, which has allowed him to continue his process of change. In February 2016, MORALES narrowly lost a referendum to approve a constitutional amendment that would have allowed him to compete in the 2019 presidential election.
However, a 2017 Supreme Court ruling stating that term limits violate human rights provided the justification for MORALES to be chosen by his party to run again in 2019. MORALES attempted to claim victory in the 20 October 2019 election, but widespread allegations of electoral fraud, rising violence, and pressure from the military ultimately forced him to flee the country. An interim government, led by President Jeanine ANEZ Chavez, prepared new elections that took place on 18 October 2020.
Government Type: presidential republic
Population: 11,758,869 (July 2021 est.)
Ethnic Groups: Mestizo (mixed White and Amerindian ancestry) 68%, Indigenous 20%, White 5%, Cholo/Chola 2%, Black 1%, other 1%, unspecified 3%; 44% of respondents indicated feeling part of some indigenous group, predominantly Quechua or Aymara (2009 est.)
Languages: Spanish (official) 60.7%, Quechua (official) 21.2%, Aymara (official) 14.6%, Guarani (official) 0.6%, other native languages 0.4%, foreign languages 2.4%, none 0.1% (2001 est.)
Religions: Roman Catholic 76.8%, Evangelical and Pentecostal 8.1%, Protestant 7.9%, other 1.7%, none 5.5% (2012 est.)
Interesting Facts information from the cia.gov website. Read more about Bolivia