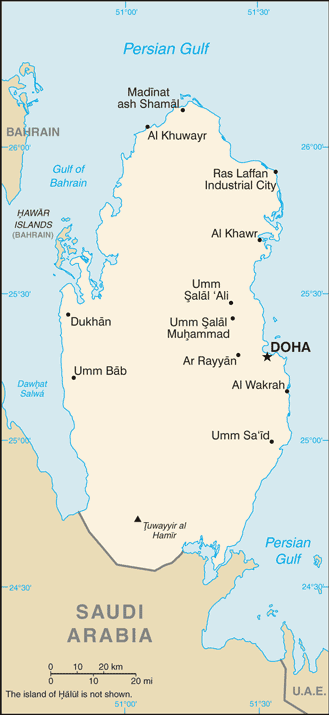 Aglow Status: Restricted
(The term "Restricted Nation" as used in Aglow is a nation where it is difficult or dangerous to be a Christian. Therefore the status of Aglow in nations indicated as Restricted is withheld.)
Capital: Doha
Pray:
Pray for all the resources and creativity needed to fulfill the intentions of God in the nation of Qatar.
Pray for godly government leaders. Blessed is the nation whose God is The Lord, the people whom He has chosen for His own inheritance. Psalm 33:12
Proclaim:
Arise, shine; for your light has come! And the glory of the LORD is risen upon you. For behold, the darkness shall cover the earth, and deep darkness the people; but the LORD will arise over you, and His glory will be seen upon you. Isaiah 60:1,2 (NKJV)
Lift up your heads, O you gates! Lift up, you everlasting doors! And the King of glory shall come in. Who is this King of glory? The Lord of hosts, He is the King of glory. Selah Psalm 24:9-10 (NKJV)
Interesting Facts About Qatar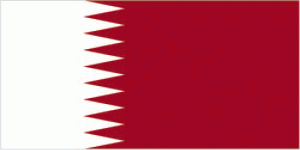 Background: Ruled by the Al Thani family since the mid-1800s, Qatar within the last 60 years transformed itself from a poor British protectorate noted mainly for pearling into an independent state with significant oil and natural gas revenues. Former Amir HAMAD bin Khalifa Al Thani, who overthrew his father in a bloodless coup in 1995, ushered in wide-sweeping political and media reforms, unprecedented economic investment, and a growing Qatari regional leadership role, in part through the creation of the pan-Arab satellite news network Al-Jazeera and Qatar's mediation of some regional conflicts. In the 2000s, Qatar resolved its longstanding border disputes with both Bahrain and Saudi Arabia and by 2007 had attained the highest per capita income in the world. Qatar did not experience domestic unrest or violence like that seen in other Near Eastern and North African countries in 2011, due in part to its immense wealth and patronage network. In mid-2013, HAMAD peacefully abdicated, transferring power to his son, the current Amir TAMIM bin Hamad. TAMIM is popular with the Qatari public, for his role in shepherding the country through an economic embargo by some other regional countries, for his efforts to improve the country's healthcare and education systems, and for his expansion of the country's infrastructure in anticipation of Doha's hosting of the 2022 World Cup.
Recently, Qatar's relationships with its neighbors have been tense, although since the fall of 2019 there have been signs of improved prospects for a thaw. Following the outbreak of regional unrest in 2011, Doha prided itself on its support for many popular revolutions, particularly in Libya and Syria. This stance was to the detriment of Qatar's relations with Bahrain, Egypt, Saudi Arabia, and the United Arab Emirates (UAE), which temporarily recalled their respective ambassadors from Doha in March 2014. TAMIM later oversaw a warming of Qatar's relations with Bahrain, Egypt, Saudi Arabia, and the UAE in November 2014 following Kuwaiti mediation and signing of the Riyadh Agreement. This reconciliation, however, was short-lived. In June 2017, Bahrain, Egypt, Saudi Arabia, and the UAE (the "Quartet") cut diplomatic and economic ties with Qatar in response to alleged violations of the agreement, among other complaints.
Government Type: absolute monarchy
Population: 2,479,995 (July 2021 est.)
Ethnic Groups: non-Qatari 88.4%, Qatari 11.6% (2015 est.)
Languages: Arabic (official), English commonly used as a second language
Religions: Muslim 67.7%, Christian 13.8%, Hindu 13.8%, Buddhist 3.1%, folk religion <.1%, Jewish <.1%, other 0.7%, unaffiliated 0.9% (2010 est.)
Interesting Facts information from the cia.gov website. Read more about Qatar