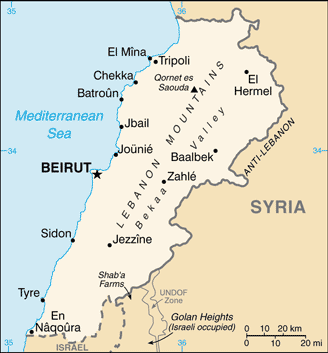 Aglow Status: Restricted
(The term "Restricted Nation" as used in Aglow is a nation where it is difficult or dangerous to be a Christian. Therefore the status of Aglow in nations indicated as Restricted is withheld.)
Capital: Beirut
Pray:
Pray for all the resources and creativity needed to fulfill the intentions of God in the nation of Lebanon.
Pray for godly government leaders. Blessed is the nation whose God is The Lord, the people whom He has chosen for His own inheritance. Psalm 33:12
Proclaim:
Arise, shine; for your light has come! And the glory of the LORD is risen upon you. For behold, the darkness shall cover the earth, and deep darkness the people; but the LORD will arise over you, and His glory will be seen upon you. Isaiah 60:1,2 (NKJV)
Lift up your heads, O you gates! Lift up, you everlasting doors! And the King of glory shall come in. Who is this King of glory? The Lord of hosts, He is the King of glory. Selah Psalm 24:9-10 (NKJV)
Interesting Facts About Lebanon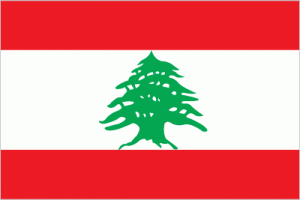 Background: Following World War I, France acquired a mandate over the northern portion of the former Ottoman Empire province of Syria. The French demarcated the region of Lebanon in 1920 and granted this area independence in 1943. Since independence, the country has been marked by periods of political turmoil interspersed with prosperity built on its position as a regional center for finance and trade. The country's 1975-90 civil war, which resulted in an estimated 120,000 fatalities, was followed by years of social and political instability. Sectarianism is a key element of Lebanese political life. Neighboring Syria has historically influenced Lebanon's foreign policy and internal policies, and its military occupied Lebanon from 1976 until 2005. The Lebanon-based Hizballah militia and Israel continued attacks and counterattacks against each other after Syria's withdrawal, and fought a brief war in 2006. Lebanon's borders with Syria and Israel remain unresolved.
Government Type: parliamentary republic
Population: 5,261,372 (July 2021 est.)
Ethnic Groups: Arab 95%, Armenian 4%, other 1%
Languages: Arabic (official), French, English, Armenian
Religions: Muslim 61.1% (30.6% Sunni, 30.5% Shia, smaller percentages of Alawites and Ismailis), Christian 33.7% (Maronite Catholics are the largest Christian group), Druze 5.2%, very small numbers of Jews, Baha'is, Buddhists, and Hindus (2018 est.)
Interesting Facts information from the cia.gov website. Read more about Lebanon