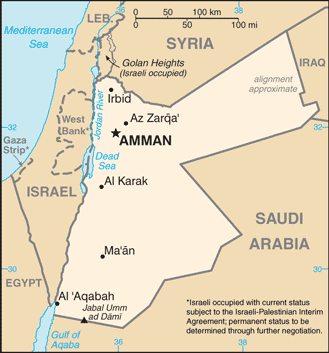 Aglow Status: Restricted
(The term "Restricted Nation" as used in Aglow is a nation where it is difficult or dangerous to be a Christian. Therefore the status of Aglow in nations indicated as Restricted is withheld.)
Capital: Amman
Pray:
Pray for all the resources and creativity needed to fulfill the intentions of God in the nation of Jordan.
Pray for godly government leaders. Blessed is the nation whose God is The Lord, the people whom He has chosen for His own inheritance. Psalm 33:12
Proclaim:
Arise, shine; for your light has come! And the glory of the LORD is risen upon you. For behold, the darkness shall cover the earth, and deep darkness the people; but the LORD will arise over you, and His glory will be seen upon you. Isaiah 60:1,2 (NKJV)
Lift up your heads, O you gates! Lift up, you everlasting doors! And the King of glory shall come in. Who is this King of glory? The Lord of hosts, He is the King of glory. Selah Psalm 24:9-10 (NKJV)
Interesting Facts About Jordan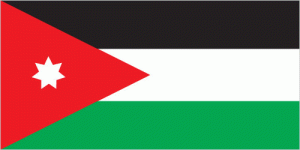 Background: Following World War I and the dissolution of the Ottoman Empire, the League of Nations awarded Britain the mandate to govern much of the Middle East. Britain demarcated a semi-autonomous region of Transjordan from Palestine in the early 1920s. The area gained its independence in 1946 and thereafter became The Hashemite Kingdom of Jordan. The country's long-time ruler, King HUSSEIN (1953-99), successfully navigated competing pressures from the major powers (US, USSR, and UK), various Arab states, Israel, and a large internal Palestinian population. Jordan lost the West Bank to Israel in the 1967 Six-Day War. King HUSSEIN in 1988 permanently relinquished Jordanian claims to the West Bank; in 1994 he signed a peace treaty with Israel.
King ABDALLAH II, King HUSSEIN's eldest son, assumed the throne following his father's death in 1999. He has implemented modest political reforms, including the passage of a new electoral law in early 2016 and an effort to devolve some authority to governorate- and municipal-level councils following subnational elections in 2017. In 2016, the Islamic Action Front, which is the political arm of the Jordanian Muslim Brotherhood, returned to the National Assembly with 15 seats after boycotting the previous two elections in 2010 and 2013.
Government Type: parliamentary constitutional monarchy
Population: 10,909,567 (July 2021 est.)
Ethnic Groups: Jordanian 69.3%, Syrian 13.3%, Palestinian 6.7%, Egyptian 6.7%, Iraqi 1.4%, other 2.6% (includes Armenian, Circassian) (2015 est.)
Languages: Arabic (official), English (widely understood among upper and middle classes)
Religions: Muslim 97.2% (official; predominantly Sunni), Christian 2.2% (majority Greek Orthodox, but some Greek and Roman Catholics, Syrian Orthodox, Coptic Orthodox, Armenian Orthodox, and Protestant denominations), Buddhist 0.4%, Hindu 0.1%, Jewish <0.1, folk <0.1, unaffiliated <0.1, other <0.1 (2010 est.)
Interesting Facts information from the cia.gov website. Read more about Jordan