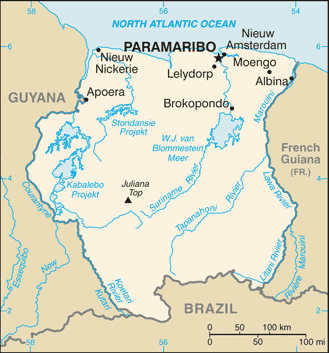 Aglow Leader: Joyce Prevatt
National Director, Southern Caribbean
Capital: Paramaribo
Pray:
Pray for the Aglow groups and leaders to be strengthened.
Pray for all the resources and creativity needed to fulfill the intentions of God in the nation of Surinam.
Pray for the Aglow prayer group in the Capital city.
Pray for godly government leaders. Blessed is the nation whose God is The Lord, the people whom He has chosen for His own inheritance. Psalm 33:12
Proclaim:
Arise, shine; for your light has come! And the glory of the LORD is risen upon you. For behold, the darkness shall cover the earth, and deep darkness the people; but the LORD will arise over you, and His glory will be seen upon you. Isaiah 60:1,2 (NKJV)
Lift up your heads, O you gates! Lift up, you everlasting doors! And the King of glory shall come in. Who is this King of glory? The Lord of hosts, He is he King of glory. Selah Psalm 24:9-10 (NKJV)
Interesting Facts About Surinam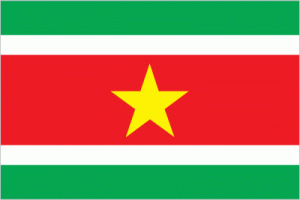 Background: First explored by the Spaniards in the 16th century and then settled by the English in the mid-17th century, Suriname became a Dutch colony in 1667. With the abolition of African slavery in 1863, workers were brought in from India and Java. The Netherlands granted the colony independence in 1975. Five years later the civilian government was replaced by a military regime that soon declared Suriname a socialist republic. It continued to exert control through a succession of nominally civilian administrations until 1987, when international pressure finally forced a democratic election. In 1990, the military overthrew the civilian leadership, but a democratically elected government – a four-party coalition – returned to power in 1991. The coalition expanded to eight parties in 2005 and ruled until August 2010, when voters returned former military leader Desire BOUTERSE and his opposition coalition to power. President BOUTERSE was reelected unopposed in 2015.
Government Type: presidential republic
Population: 614,749 (July 2021 est.)
Ethnic Groups: Hindustani (also known locally as "East Indians"; their ancestors emigrated from northern India in the latter part of the 19th century) 27.4%, Maroon (their African ancestors were brought to the country in the 17th and 18th centuries as slaves and escaped to the interior) 21.7%, Creole (mixed White and Black) 15.7%, Javanese 13.7%, mixed 13.4%, other 7.6%, unspecified 0.6% (2012 est.)
Languages: Dutch (official), English (widely spoken), Sranang Tongo (Surinamese, sometimes called Taki-Taki, is the native language of Creoles and much of the younger population and is lingua franca among others), Caribbean Hindustani (a dialect of Hindi), Javanese
Religions: Protestant 23.6% (includes Evangelical 11.2%, Moravian 11.2%, Reformed .7%, Lutheran .5%), Hindu 22.3%, Roman Catholic 21.6%, Muslim 13.8%, other Christian 3.2%, Winti 1.8%, Jehovah's Witness 1.2%, other 1.7%, none 7.5%, unspecified 3.2% (2012 est.)
Interesting Facts information from the cia.gov website. Read more about Surinam