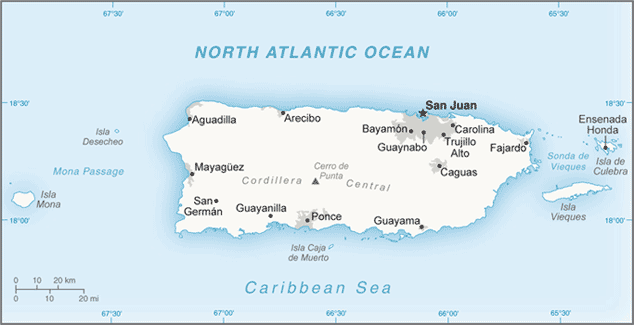 Aglow Leader:
Eileen Clemetson
National Director,
Central Caribbean
Capital: San Juan
Pray:
Pray for the Aglow groups and leaders to be strengthened.
Pray for all the resources and creativity needed to fulfill the intentions of God in the nation of Puerto Rico.
Pray for the Aglow prayer group in the Capital city.
Pray for godly government leaders. Blessed is the nation whose God is The Lord, the people whom He has chosen for His own inheritance. Psalm 33:12
Proclaim:
Arise, shine; for your light has come! And the glory of the LORD is risen upon you. For behold, the darkness shall cover the earth, and deep darkness the people; but the LORD will arise over you, and His glory will be seen upon you. Isaiah 60:1,2 (NKJV)
Lift up your heads, O you gates! Lift up, you everlasting doors! And the King of glory shall come in. Who is this King of glory? The Lord of hosts, He is he King of glory. Selah Psalm 24:9-10 (NKJV)
 Interesting Facts About Puerto Rico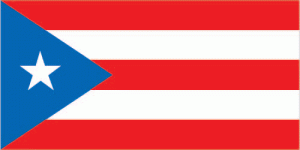 Background: Populated for centuries by aboriginal peoples, the island was claimed by the Spanish Crown in 1493 following Christopher COLUMBUS' second voyage to the Americas. In 1898, after 400 years of colonial rule that saw the indigenous population nearly exterminated and African slave labor introduced, Puerto Rico was ceded to the US as a result of the Spanish-American War. Puerto Ricans were granted US citizenship in 1917. Popularly elected governors have served since 1948. In 1952, a constitution was enacted providing for internal self-government. In plebiscites held in 1967, 1993, and 1998, voters chose not to alter the existing political status with the US, but the results of a 2012 vote left open the possibility of American statehood. Economic recession on the island has led to a net population loss since about 2005, as large numbers of residents moved to the US mainland. The trend has accelerated since 2010; in 2014, Puerto Rico experienced a net population loss to the mainland of 64,000, more than double the net loss of 26,000 in 2010. Hurricane Maria struck the island on 20 September 2017 causing catastrophic damage, including destruction of the electrical grid that had been cripled by Hurricane Irma just two weeks before. It was the worst storm to hit the island in eight decades, and damage is estimated in the tens of billions of dollars. A referendum held in late 2020 showed a narrow preference for American statehood.
Government Type: republican form of government with separate executive, legislative, and judicial branches; unincorporated organized territory of the US with local self-government
Population: 3,142,779 (July 2021 est.)
Ethnic Groups: White 75.8%, Black/African American 12.4%, other 8.5% (includes American Indian, Alaskan Native, Native Hawaiian, other Pacific Islander, and others), mixed 3.3% (2010 est.)
Languages: Spanish and English
Religions: Roman Catholic 85%, Protestant and other 15%
Interesting Facts information from the cia.gov website. Read more about Puerto Rico