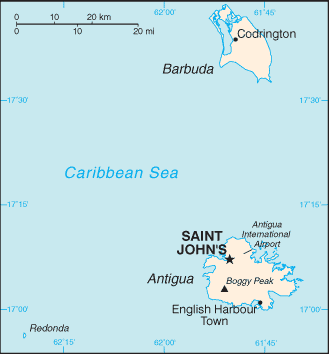 Aglow Leader: Kathleen Richardson
National Director, Eastern Caribbean
Capital: St. John's
Pray:
Pray for the Aglow groups and leaders to be strengthened.
Pray for all the resources and creativity needed to fulfill the intentions of God in the nation of Antigua.
Pray for the Aglow prayer group in the Capital city.
Pray for godly government leaders. Blessed is the nation whose God is The Lord, the people whom He has chosen for His own inheritance. Psalm 33:12
Proclaim:
Arise, shine; for your light has come! And the glory of the LORD is risen upon you. For behold, the darkness shall cover the earth, and deep darkness the people; but the LORD will arise over you, and His glory will be seen upon you. Isaiah 60:1,2 (NKJV)
Lift up your heads, O you gates! Lift up, you everlasting doors! And the King of glory shall come in. Who is this King of glory? The Lord of hosts, He is he King of glory. Selah Psalm 24:9-10 (NKJV)
Interesting Facts About Antigua
Background: The Siboney were the first people to inhabit the islands of Antigua and Barbuda in 2400 B.C., but Arawak Indians populated the islands when COLUMBUS landed on his second voyage in 1493. Early Spanish and French settlements were succeeded by an English colony in 1667. Slavery, established to run the sugar plantations on Antigua, was abolished in 1834. The islands became an independent state within the British Commonwealth of Nations in 1981. On 6 September 2017, Hurricane Irma passed over the island of Barbuda devastating the island and forcing the evacuation of the population to Antigua. Almost all the structures on Barbuda were destroyed and the vegetation stripped, but Antigua was spared the worst.
Government Type: parliamentary democracy under a constitutional monarchy; a Commonwealth realm
Population: 99,175 (July 2021 est.)
Ethnic Groups: African descent 87.3%, mixed 4.7%, Hispanic 2.7%, White 1.6%, other 2.7%, unspecified 0.9% (2011 est.)
Languages: Protestant 68.3% (Anglican 17.6%, Seventh Day Adventist 12.4%, Pentecostal 12.2%, Moravian 8.3%, Methodist 5.6%, Wesleyan Holiness 4.5%, Church of God 4.1%, Baptist 3.6%), Roman Catholic 8.2%, other 12.2%, unspecified 5.5%, none 5.9% (2011 est.)English (official), Antiguan creole
Religions: Protestant 76.4% (Anglican 25.7%, Seventh-Day Adventist 12.3%, Pentecostal 10.6%, Moravian 10.5%, Methodist 7.9%, Baptist 4.9%, Church of God 4.5%), Roman Catholic 10.4%, other Christian 5.4%, other 2%, none or unspecified 5.8% (2001 census)
Interesting Facts information from the cia.gov website. Read more about Antigua