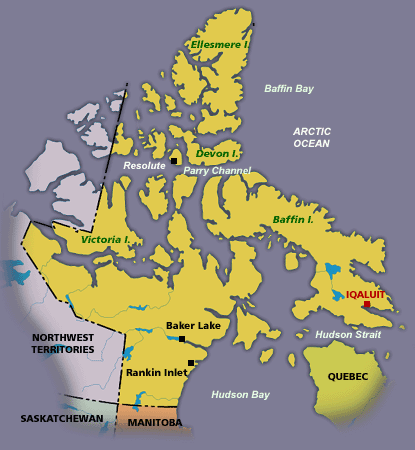 Capital: Iqaluit
Pray:
Pray for the Aglow groups and leaders to be strengthened.
Pray for all the resources and creativity needed to fulfill the intentions of God in the province of Nunavut.
Pray for the Aglow prayer group in the Capital city.
Pray for godly government leaders. Blessed is the nation whose God is The Lord, the people whom He has chosen for His own inheritance. Psalm 33:12
Proclaim:
Arise, shine; for your light has come! And the glory of the LORD is risen upon you. For behold, the darkness shall cover the earth, and deep darkness the people; but the LORD will arise over you, and His glory will be seen upon you. Isaiah 60:1,2 (NKJV)
Lift up your heads, O you gates! Lift up, you everlasting doors! And the King of glory shall come in. Who is this King of glory? The Lord of hosts, He is he King of glory. Psalm 24:9-10 (NKJV)
Interesting Facts About Nunavut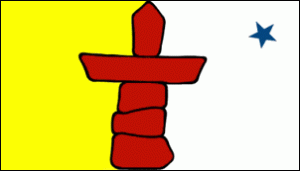 Population: 35,591
Government: Many of the Inuit still live off the land following their traditional economy; hunting, trapping, gathering and fishing. Increasingly carving and artistic pursuits are becoming staple economic activities throughout much of the north.
The annual economic value of subsistence harvesting in Nunavut is estimated between $30 million and $50 million a year. Official estimates put the arts and crafts industry at more than $20 million per year, with more than 2,500 people deriving all or part of their income from this industry.
A limited wage economy exists in Nunavut, but there is a difference in the way residents participate; 60 per cent of Nunavut's adult Inuit population is in the labor force, although 28 per cent of that group is unemployed. Ninety-one per cent of Nunavut's small non-aboriginal population is in the labor force, with a four per cent unemployment rate.
Nunavut relies on federal transfer payments for at least 90 per cent of its revenue. Government employment is a mainstay of the wage economy with many of Nunavut's small businesses and retail outlets established to support government needs, or those of public servants.
Mining contributes 500 jobs to Nunavut's wage economy, but non-residents fill more than 85 per cent of these jobs. Lead, zinc, silver, and gold are all mined in Nunavut.
Construction has been growing as the governmental infrastructure has been established. A more self-reliant construction industry is developing which helps Inuit-owned businesses in Nunavut benefit from federal and territorial contracts.
Several fishing and meat processing plants operate in Nunavut.

People: Archeologists divide Nunavut's inhabitants into two distinct but physically related groups: the Paleoeskimo people from at least 4,000 to 700 years ago; and the Neoeskimo people who entered Nunavut some 1,000 years ago.
Nunavut is home to the Inuit who originally inhabited this land, and of the qallunaat (outsiders) who arrived in their changing quests over the centuries, from the search for a sea route westward, for whales, furs and other natural resources, and finally, to stay.
History: Nunavut has been occupied continuously for more than 4,000 years. Historians have identified the Baffin coast with Norse sagas, however recorded history began in 1576 when Martin Frobisher, on an expedition in search of the fabled Northwest Passage, discovered what he thought was gold on Baffin Island. The ore was worthless and Frobisher's encounters with the Inuit were not friendly. He seized four Inuit in 1576 and 1577 and took them to England where they quickly died. In 1585, John Davis, also in search of the Northwest Passage, explored Cumberland Sound. Henry Hudson followed in 1610.
The Arctic Islands were transferred from Britain to Canada in 1880. In 1903 an official expedition visited the High Arctic and Cumberland Sound exerting Canadian sovereignty. Between 1906 and 1911 the Canadian government dispatched three official voyages to the High Arctic, to show the flag and collect Customs duties from whalers.
The Second World War and the Cold War opened the Canadian Arctic. The United States Air Force built an airfield at Frobisher Bay, now Iqaluit, to handle aircraft transporting war materials to Europe. In 1955 construction began on the Distant Early Warning (DEW) Line, a joint project of Canada and the United States to create an early-warning radar chain to warn of any Soviet incursions.
Inuit leaders articulated the idea for the territory with its own government in the 1970s. Canada's newest territory – Nunavut – came into being on April 1st 1999.
Interesting Facts information from the library.educationworld.net/canadafacts website. Read more about Nunavut