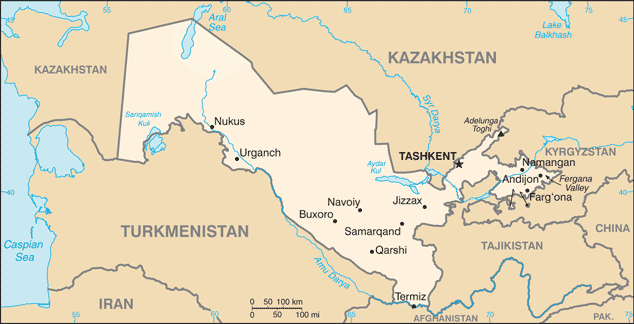 Aglow Status: No Aglow Presence
Capital: Tashkent (Toshkent)
Pray:
Pray for the Aglow groups and leaders to be strengthened.
Pray for all the resources and creativity needed to fulfill the intentions of God in the nation of Uzbekistan.
Pray for the Aglow prayer group in the Capital city.
Pray for godly government leaders. Blessed is the nation whose God is The Lord, the people whom He has chosen for His own inheritance. Psalm 33:12
Proclaim:
Arise, shine; for your light has come! And the glory of the LORD is risen upon you. For behold, the darkness shall cover the earth, and deep darkness the people; but the LORD will arise over you, and His glory will be seen upon you. Isaiah 60:1,2 (NKJV)
Lift up your heads, O you gates! Lift up, you everlasting doors! And the King of glory shall come in. Who is this King of glory? The Lord of hosts, He is he King of glory. Selah Psalm 24:9-10 (NKJV)
Interesting Facts About Uzbekistan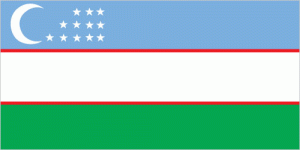 Background: Uzbekistan is the geographic and population center of Central Asia. The country has a diverse economy and a relatively young population. Russia conquered and united the disparate territories of present-day Uzbekistan in the late 19th century. Stiff resistance to the Red Army after the Bolshevik Revolution was eventually suppressed and a socialist republic established in 1924. During the Soviet era, intensive production of "white gold" (cotton) and grain led to the overuse of agrochemicals and the depletion of water supplies, leaving the land degraded and the Aral Sea and certain rivers half-dry. Independent since the dissolution of the USSR in 1991, the country has diversified agricultural production while developing its mineral and petroleum export capacity and increasing its manufacturing base, although cotton remains a major part of its economy.
Uzbekistan's first president, Islam KARIMOV, led Uzbekistan for 25 years until his death in September 2016. His successor, former Prime Minister Shavkat MIRZIYOYEV, has improved relations with Uzbekistan's neighbors and introduced wide-ranging economic, judicial, and social reforms.
Government Type: presidential republic; highly authoritarian
Population: 30,842,796 (July 2021 est.)
Ethnic Groups: Uzbek 83.8%, Tajik 4.8%, Kazakh 2.5%, Russian 2.3%, Karakalpak 2.2%, Tatar 1.5%, other 4.4% (2017 est.)
Languages: Uzbek (official) 74.3%, Russian 14.2%, Tajik 4.4%, other 7.1%
Religions: Muslim 88% (mostly Sunni), Eastern Orthodox 9%, other 3%
Interesting Facts information from the cia.gov website. Read more about Uzbekistan