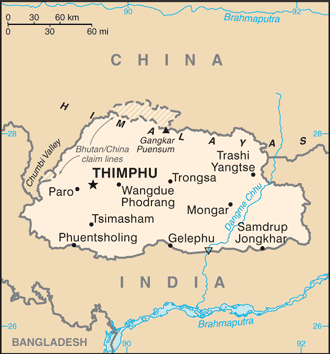 Aglow Status: Restricted
(The term "Restricted Nation" as used in Aglow is a nation where it is difficult or dangerous to be Christian.  Therefore the status of Aglow in nations indicated as Restricted is withheld.)
Capital: Thimphu
Pray:
Pray for all the resources and creativity needed to fulfill the intentions of God in the nation of Bhutan.
Pray for godly government leaders. Blessed is the nation whose God is The Lord, the people whom He has chosen for His own inheritance. Psalm 33:12
Proclaim:
Arise, shine; for your light has come! And the glory of the LORD is risen upon you. For behold, the darkness shall cover the earth, and deep darkness the people; but the LORD will arise over you, and His glory will be seen upon you.  Isaiah 60:1,2 (NKJV)
Lift up your heads, O you gates! Lift up, you everlasting doors! And the King of glory shall come in. Who is this King of glory? The Lord of hosts, He is the King of glory. Selah Psalm 24:9-10 (NKJV)
Interesting Facts About Bhutan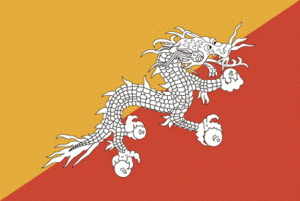 Background: Following Britain's victory in the 1865 Duar War, Britain and Bhutan signed the Treaty of Sinchulu, under which Bhutan would receive an annual subsidy in exchange for ceding land to British India. Ugyen WANGCHUCK – who had served as the de facto ruler of an increasingly unified Bhutan and had improved relations with the British toward the end of the 19th century – was named king in 1907. Three years later, a treaty was signed whereby the British agreed not to interfere in Bhutanese internal affairs, and Bhutan allowed Britain to direct its foreign affairs. Bhutan negotiated a similar arrangement with independent India in 1949. The Indo-Bhutanese Treaty of Friendship returned to Bhutan a small piece of the territory annexed by the British, formalized the annual subsidies the country received, and defined India's responsibilities in defense and foreign relations. Under a succession of modernizing monarchs beginning in the 1950s, Bhutan joined the UN in 1971 and slowly continued its engagement beyond its borders.
In 2005, King Jigme Singye WANGCHUCK unveiled the draft of Bhutan's first constitution – which introduced major democratic reforms – and held a national referendum for its approval. The King abdicated the throne in 2006 in favor of his son, Jigme Khesar Namgyel WANGCHUCK. In 2007, India and Bhutan renegotiated their treaty, eliminating the clause that stated that Bhutan would be "guided by" India in conducting its foreign policy, although Thimphu continues to coordinate closely with New Delhi. In 2008, Bhutan held its first parliamentary election in accordance with the constitution. Bhutan experienced a peaceful turnover of power following a parliamentary election in 2013, which resulted in the defeat of the incumbent party. In 2018, the incumbent party again lost the parliamentary election. Of the more than 100,000 ethnic Nepali – predominantly Lhotshampa – refugees who fled or were forced out of Bhutan in the 1990s, about 6,500 remain displaced in Nepal.
Government Type: constitutional monarchy
Population: 857,423 (July 2021 est.)
Ethnic Groups: Ngalop (also known as Bhote) 50%, ethnic Nepali 35% (predominantly Lhotshampas), indigenous or migrant tribes 15%
Languages: Sharchhopka 28%, Dzongkha (official) 24%, Lhotshamkha 22%, other 26% (includes foreign languages) (2005 est.)
Religions: Lamaistic Buddhist 75.3%, Indian- and Nepali-influenced Hinduism 22.1%, other 2.6% (2005 est.)
Interesting Facts information from the cia.gov website. Read more about Bhutan