Aglow Leader:
Bertha Oubda
National Committee President
Capital: Banjul
Pray:
Our prayer is for God to raise committed and dedicated men and women to lift the mantle and restore and revive the Aglow ministry in Gambia.
We also need prayer for financial partners to join with us for trips from the National Director.
We ask for prayers for God's divine provision for funds for an upcoming outreach to revive Aglow in The Gambia.
Proclaim:
 We proclaim His kingdom to arise to recover and restore the Aglow ministry in the Gambia.
Arise, shine; for your light has come!  And the glory of the LORD is risen upon you.  For behold, the darkness shall cover the earth, and deep darkness the people; but the LORD will arise over you, and His glory will be seen upon you.  Isaiah 60:1,2 (NKJV)
Lift up your heads, O you gates! Lift up, you everlasting doors! And the King of glory shall come in. Who is this King of glory? The Lord of hosts, He is he King of glory. Selah Psalm 24:9-10 (NKJV)
Interesting Facts About The Gambia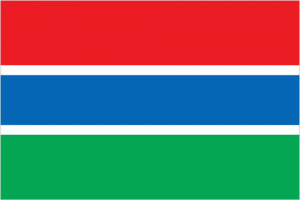 Background: In the 10th century, Muslim merchants established some of The Gambia's earliest large settlements as trans-Saharan trade hubs. These settlements eventually grew into major export centers sending slaves, gold, and ivory across the Sahara. Between the 16th and 17th centuries, European colonial powers began establishing trade with The Gambia. In 1664, the United Kingdom established a colony in The Gambia focused on exporting enslaved people across the Atlantic. During the roughly 300 years of the trans-Atlantic slave trade, the UK and other European powers may have exported as many as 3 million people from The Gambia.
In 1965, The Gambia gained its independence from the UK. Geographically surrounded by Senegal, it formed the short-lived confederation of Senegambia between 1982 and 1989. In 1994, Yahya JAMMEH led a military coup overthrowing the president and banning political activity. JAMMEH won every presidential election until 2016. In December 2016, after 22 years of authoritarian rule, President JAMMEH lost to Adama BARROW during free and fair elections. Due to The Gambia's poor human rights record under JAMMEH, international development partners had substantially reduced aid to the country. These channels have now reopened under the administration of President BARROW. Since the 2016 election, The Gambia and the US have enjoyed improved relations. US assistance to the country has supported military education and training programs, capacity building, and democracy-strengthening activities.
Government Type: presidential republic
Population: 2,221,301 (July 2021 est.)
Ethnic Groups: Mandinka/Jahanka 34%, Fulani/Tukulur/Lorobo 22.4%, Wolof 12.6%, Jola/Karoninka 10.7%, Serahuleh 6.6%, Serer 3.2%, Manjago 2.1%, Bambara 1%, Creole/Aku Marabout 0.7%, other 0.9%, non-Gambian 5.2%, no answer 0.6% (2013 est.)
Languages: English (official), Mandinka, Wolof, Fula, other indigenous vernaculars
Religions: Muslim 95.7%, Christian 4.2%, none 0.1%, no response 0.1% (2013 est.)
Interesting Facts information from the cia.gov website. Read more about The Gambia