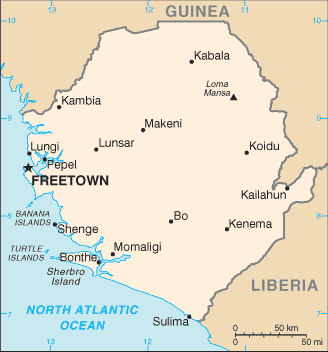 Aglow Leader: Sarian Kemoh
National Assistant
Capital: Freetown
Pray:
Pray for the Aglow groups and leaders to be strengthened.
Pray for all the resources and creativity needed to fulfill the intentions of God in the nation of Sierre Leone.
Pray for the Aglow prayer group in the Capital city.
Pray for godly government leaders. Blessed is the nation whose God is The Lord, the people whom He has chosen for His own inheritance. Psalm 33:12
Proclaim:
Arise, shine; for your light has come!  And the glory of the LORD is risen upon you.  For behold, the darkness shall cover the earth, and deep darkness the people; but the LORD will arise over you, and His glory will be seen upon you.  Isaiah 60:1,2 (NKJV)
Lift up your heads, O you gates! Lift up, you everlasting doors! And the King of glory shall come in. Who is this King of glory? The Lord of hosts, He is he King of glory. Selah Psalm 24:9-10 (NKJV)
Interesting Facts About Sierra Leone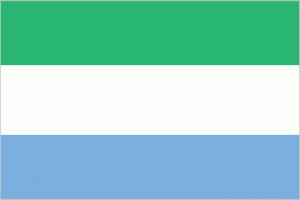 Background: Continuously populated for at least 2,500 years, the dense jungle in the area of Sierra Leone allowed the region to remain relatively protected from invaders from empires in West Africa. Traders introduced Sierra Leone to Islam, which occupies a central role in Sierra Leonean culture and history. In the 17th century, the British set up a trading post near present-day Freetown. The trade originally involved timber and ivory, but later expanded to enslaved people. In 1787, following the American Revolution, Sierra Leone became a destination for black British loyalists from the new United States. After the abolition of the slave trade in 1807, British ships delivered thousands of liberated Africans to Sierra Leone. During the 19th century, the colony gradually expanded inland.
In 1961, Sierra Leone became independent of the UK. While Sierra Leone held free and fair elections in 1962 and 1967, Siaka STEVENS – Sierra Leone's second prime minister – quickly reverted to authoritarian tendencies, outlawing most political parties and ruling from 1967 to 1985. In 1991, Sierra Leonean soldiers launched a civil war against STEVENS' ruling party. The war caused tens of thousands of deaths and displaced more than 2 million people (about one-third of the population). In 1998, a Nigerian-led West African coalition military force intervened, installing Tejan KABBAH – who was originally elected in 1996 – as prime minister. In 2002, KABBAH officially announced the end of the war. Since 1998, Sierra Leone has conducted uninterrupted democratic elections.
Government Type: presidential republic
Population: 6,807,277 (July 2021 est.)
Ethnic Groups: Temne 35.5%, Mende 33.2%, Limba 6.4%, Kono 4.4%, Fullah 3.4%, Loko 2.9%, Koranko 2.8%, Sherbro 2.6%, Mandingo 2.4%, Creole 1.2% (descendants of freed Jamaican slaves who were settled in the Freetown area in the late-18th century; also known as Krio), other Sierra Leone 4.7%, other foreign 0.3% (includes refugees from Liberia's civil war, and small numbers of Europeans, Lebanese, Pakistanis, and Indians), unspecified 0.2% (2013 est.)
Languages: English (official, regular use limited to literate minority), Mende (principal vernacular in the south), Temne (principal vernacular in the north), Krio (English-based Creole, spoken by the descendants of freed Jamaican slaves who were settled in the Freetown area, a lingua franca and a first language for 10% of the population but understood by 95%)
Religions: Muslim 78.6%, Christian 20.8%, other 0.3%, unspecified 0.2% (2013 est.)
Interesting Facts information from the cia.gov website. Read more about Sierra Leone