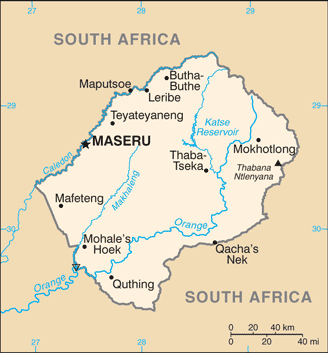 Aglow Status: No Aglow activity
Capital: Maseru
Pray:
We are praying for Aglow to be affiliated in every nation in the world. We are very close to reaching that goal. Let's continue to move forward together, an army in the Spirit, to see Every nation touched, every heart changed.
Pray that an Aglow Prayer Group will be established in the capital city.
Pray for many to arise in Aglow International in Lesotho.
Proclaim:
Arise, shine; for your light has come!  And the glory of the LORD is risen upon you.  For behold, the darkness shall cover the earth, and deep darkness the people; but the LORD will arise over you, and His glory will be seen upon you.  Isaiah 60:1,2 (NKJV)
Lift up your heads, O you gates! Lift up, you everlasting doors! And the King of glory shall come in. Who is this King of glory? The Lord of hosts, He is the King of glory. Selah Psalm 24:9-10 (NKJV)
Interesting Facts About Lesotho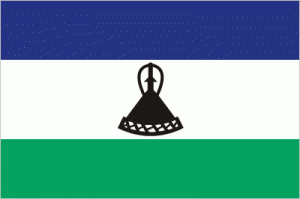 Background: Paramount chief MOSHOESHOE I consolidated what would become Basutoland in the early 19th century and made himself king in 1822. Continuing encroachments by Dutch settlers from the neighboring Orange Free State caused the king to enter into an 1868 agreement with the UK by which Basutoland became a British protectorate, and after 1884, a crown colony. Upon independence in 1966, the country was renamed the Kingdom of Lesotho.
The Basotho National Party ruled the country during its first two decades. King MOSHOESHOE II was exiled in 1990, but returned to Lesotho in 1992 and was reinstated in 1995 and subsequently succeeded by his son, King LETSIE III, in 1996. Constitutional government was restored in 1993 after seven years of military rule. In 1998, violent protests and a military mutiny following a contentious election prompted a brief but bloody intervention by South African and Botswana military forces under the aegis of the Southern African Development Community. Subsequent constitutional reforms restored relative political stability. Peaceful parliamentary elections were held in 2002, but the National Assembly elections in 2007 were hotly contested and aggrieved parties disputed how the electoral law was applied to award proportional seats in the Assembly. In 2012, competitive elections involving 18 parties saw Prime Minister Motsoahae Thomas THABANE form a coalition government – the first in the country's history – that ousted the 14-year incumbent, Pakalitha MOSISILI, who peacefully transferred power the following month. MOSISILI returned to power in snap elections in February 2015 after the collapse of THABANE's coalition government and an alleged attempted military coup. In June 2017, THABANE returned to become prime minister.
Government Type: parliamentary constitutional monarchy
Population: 2,177,740 (July 2021 est.)
Ethnic Groups: Sotho 99.7%, Europeans, Asians, and other 0.3%
Languages: Sesotho (official) (southern Sotho), English (official), Zulu, Xhosa
Religions: Protestant 47.8% (Pentecostal 23.1%, Lesotho Evangelical 17.3%, Anglican 7.4%), Roman Catholic 39.3%, other Christian 9.1%, non-Christian 1.4%, none 2.3% (2014 est.)
Interesting Facts information from the cia.gov website. Read more about Lesotho