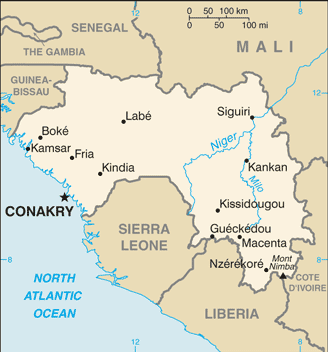 Aglow Leader: Leadership in transition
Capital: Conakry
Pray:
Pray for the Aglow groups and leaders to be strengthened.
Pray for all the resources and creativity needed to fulfill the intentions of God in the nation of Guinea.
Pray for the Aglow prayer group in the Capital city.
Pray for godly government leaders. Blessed is the nation whose God is The Lord, the people whom He has chosen for His own inheritance. Psalm 33:12
Proclaim:
Arise, shine; for your light has come!  And the glory of the LORD is risen upon you.  For behold, the darkness shall cover the earth, and deep darkness the people; but the LORD will arise over you, and His glory will be seen upon you.  Isaiah 60:1,2 (NKJV)
Lift up your heads, O you gates! Lift up, you everlasting doors! And the King of glory shall come in. Who is this King of glory? The Lord of hosts, He is he King of glory. Selah Psalm 24:9-10 (NKJV)
Interesting Facts About Guinea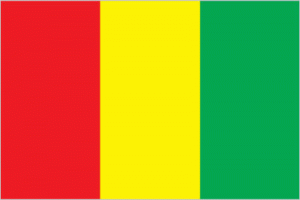 Background: Guinea's deep Muslim heritage arrived via the neighboring Almoravid Empire in the 11th century. Following Almoravid decline, Guinea existed on the fringe of several African kingdoms all competing for regional dominance. In the 13th century, the Mali Empire took control of Guinea, encouraging its already growing Muslim faith. After the fall of the West African empires, various smaller kingdoms controlled Guinea. In the 18th century, Fulani Muslims established an Islamic state in central Guinea that represents one of the earliest examples of a written constitution and alternating leadership. While European traders first arrived in the 16th century, it was the French who secured colonial rule in the 19th century.
In 1958, Guinea became independent from France, and Sekou TOURE established an authoritarian regime. TOURE ruled until his death in 1984. After TOURE's death, General Lansana CONTE staged a coup and seized the government. CONTE organized and won presidential elections in 1993, 1998, and 2003. Upon CONTE's death in December 2008, Captain Moussa Dadis CAMARA led a military coup, seized power, and suspended the constitution. In September 2009, presidential guards opened fire on an opposition rally, killing more than 150 people. In early December 2009, CAMARA was wounded in an assassination attempt and exiled to Burkina Faso. In 2010 and 2013 respectively, the country held its first free and fair presidential and legislative elections. Alpha CONDE won the 2010 and 2015 presidential elections. CONDE's first cabinet was the first all-civilian government in Guinean history. In March 2020, Guinea passed a constitutional referendum that extended presidential terms and reset CONDE's term count, and later that year, Alpha CONDE won a controversial third presidential term. CONDE's current term will end in 2026.
Government Type: presidential republic
Population: 12,877,894 (July 2021 est.)
Ethnic Groups: Fulani (Peuhl) 33.4%, Malinke 29.4%, Susu 21.2%, Guerze 7.8%, Kissi 6.2%, Toma 1.6%, other/foreign .4% (2018 est.)
Languages: French (official), Pular, Maninka, Susu, other native languages
Religions: Muslim 89.1%, Christian 6.8%, animist 1.6%, other .1%, none 2.4% (2014 est.)
Interesting Facts information from the cia.gov website. Read more about Guinea