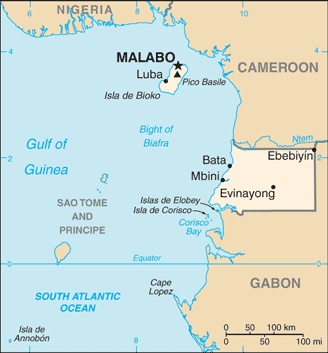 Aglow Leader: Gertrude Ekoko
Africa Regional Committee
Capital: Malabo
Pray:
Pray for the Aglow groups and leaders to be strengthened.
Pray for all the resources and creativity needed to fulfill the intentions of God in the nation of Equatorial Guinea.
Pray for the Aglow prayer group in the Capital city.
Pray for godly government leaders. Blessed is the nation whose God is The Lord, the people whom He has chosen for His own inheritance. Psalm 33:12
 Proclaim:
Arise, shine; for your light has come! And the glory of the LORD is risen upon you. For behold, the darkness shall cover the earth, and deep darkness the people; but the LORD will arise over you, and His glory will be seen upon you. Isaiah 60:1,2 (NKJV)
Lift up your heads, O you gates! Lift up, you everlasting doors! And the King of glory shall come in. Who is this King of glory? The Lord of hosts, He is he King of glory. Selah Psalm 24:9-10 (NKJV)
Interesting Facts About Equatorial Guinea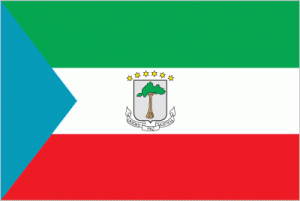 Background: Equatorial Guinea gained independence in 1968 after 190 years of Spanish rule; it is one of the smallest countries in Africa consisting of a mainland territory and five inhabited islands. The capital of Malabo is located on the island of Bioko, approximately 25 km from the Cameroonian coastline in the Gulf of Guinea. Between 1968 and 1979, autocratic President Francisco MACIAS NGUEMA virtually destroyed all of the country's political, economic, and social institutions before being deposed by his nephew Teodoro OBIANG NGUEMA MBASOGO in a coup. President OBIANG has ruled since October 1979. He has been elected several times since 1996, and was most recently reelected in 2016. Although nominally a constitutional democracy since 1991, presidential and legislative elections since 1996 have generally been labeled as flawed.
The president exerts almost total control over the political system and has placed legal and bureaucratic barriers that hinder political opposition. Equatorial Guinea experienced rapid economic growth in the early years of the 21st century due to the discovery of large offshore oil reserves in 1996. Production peaked in late 2004 and has slowly declined since, although aggressive searches for new oil fields continue. Despite the country's economic windfall from oil production, resulting in massive increases in government revenue in past years, the drop in global oil prices as of 2014 has placed significant strain on the state budget and pushed the country into recession. Oil revenues have mainly been used for the development of infrastructure and there have been limited improvements in the population's living standards. Equatorial Guinea continues to seek to diversify its economy and to increase foreign investment. The country hosts major regional and international conferences and continues to seek a greater role in international affairs, and leadership in the sub-region.
Government Type: presidential republic
Population: 857,008 (July 2021 est.)
Ethnic Groups: Fang 85.7%, Bubi 6.5%, Mdowe 3.6%, Annobon 1.6%, Bujeba 1.1%, other 1.4% (1994 census)
Languages: Spanish (official) 67.6%, other (includes Fang, Bubi, Portuguese (official), French (official), Portuguese-based Creoles spoken in Ano Bom) 32.4% (1994 census)
Religions: nominally Christian and predominantly Roman Catholic, Muslim, Baha'i, animist, indigenous
Interesting Facts information from the cia.gov website. Read more about Equatorial Guinea