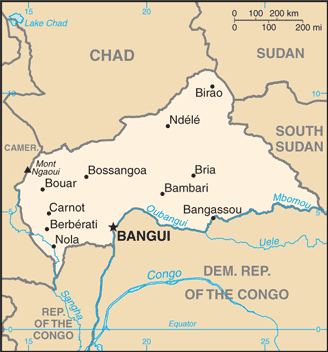 Aglow Leader: Marie-Louise Yakemba
National Board President
Capital: Bangui
Pray:
Pray for the Aglow groups and leaders to be strengthened.
Pray for all the resources and creativity needed to fulfill the intentions of God in the nation of Central Africa Republic.
Pray for the Aglow prayer group in the Capital city.
Pray for godly government leaders. Blessed is the nation whose God is The Lord, the people whom He has chosen for His own inheritance. Psalm 33:12
Proclaim:
Arise, shine; for your light has come! And the glory of the LORD is risen upon you. For behold, the darkness shall cover the earth, and deep darkness the people; but the LORD will arise over you, and His glory will be seen upon you. Isaiah 60:1,2 (NKJV)
Lift up your heads, O you gates! Lift up, you everlasting doors! And the King of glory shall come in. Who is this King of glory? The Lord of hosts, He is he King of glory. Selah Psalm 24:9-10 (NKJV)
Interesting Facts About Central African Republic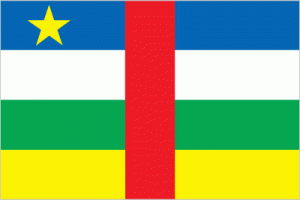 Background: The region was the site of much slave trading activity in the centuries before becoming a French protectorate in the late 19th century, and then was heavily economically exploited in the early part of the 20th century. Upon independence in 1960, the French colony of Ubangi-Shari became the Central African Republic.
After three tumultuous decades of misrule – mostly by military governments – civilian rule was established in 1993 but lasted only a decade. In March 2003, President Ange-Felix PATASSE was deposed in a military coup led by General Francois BOZIZE, who established a transitional government. Elections held in 2005 affirmed General BOZIZE as president; he was reelected in 2011 in voting widely viewed as flawed. Several rebel groups joined together in early December 2012 to launch a series of attacks that left them in control of numerous towns in the northern and central parts of the country. The rebels – unhappy with BOZIZE's government – participated in peace talks in early January 2013 which resulted in a coalition government including the rebellion's leadership.
In March 2013, the coalition government dissolved, rebels seized the capital, and President BOZIZE fled the country. Rebel leader Michel DJOTODIA assumed the presidency and the following month established a National Transitional Council (CNT). In January 2014, the CNT elected Catherine SAMBA-PANZA as interim president.
Elections completed in March 2016 installed independent candidate Faustin-Archange TOUADERA as president; he continues to work towards peace between the government and armed groups, and is developing a disarmament, demobilization, reintegration, and repatriation program to reintegrate the armed groups into society. Nonetheless, as of early 2020 widespread violence continued, and the government in Bangui remains unable to extend control outside the capital. Peace agreements signed in 2017 and 2019 between the government and the main armed factions have had little effect. As of late 2020 armed groups continued to operate openly and control large swaths – as much 80% by some estimates – of the country's territory.
Government Type: presidential republic
Population: 5,357,984 (July 2021 est.)
Ethnic Groups: Baya 28.8%, Banda 22.9%, Mandjia 9.9%, Sara 7.9%, M'Baka-Bantu 7.9%, Arab-Fulani (Peul) 6%, Mbum 6%, Ngbanki 5.5%, Zande-Nzakara 3%, other Central African Republic ethnic groups 2%, non-Central African Republic ethnic groups .1%
Languages: French (official), Sangho (lingua franca and national language), tribal languages
Religions: Christian 89.5%, Muslim 8.5%, folk 1%, unaffiliated 1% (2010 est.)
Interesting Facts information from the cia.gov website.  Read more about CFR