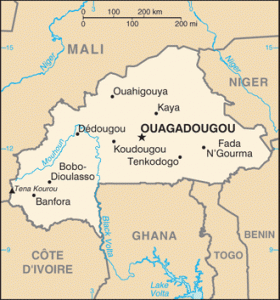 Aglow Leader: Eleonore Gnoumou
National Board President
Capital:  Ouagadougou
Pray:
Pray for the political situation as Burkina Faso prepares for presidential elections in 2015.
Proclaim:
We proclaim the peace of God in the people, government and land of Burkina Faso.
Interesting Facts About Burkina Faso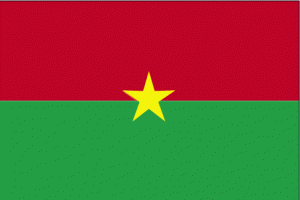 Background: Many of Burkina Faso's ethnic groups arrived in the region between the 12th and 15th centuries. The Gurma and Mossi peoples established several of the largest kingdoms in the area and used horse-mounted warriors in military campaigns. Of the various Mossi kingdoms, the most powerful were Ouagadougou and Yatenga. In the late 19th century, European states competed for control of the region. France eventually conquered the area and established it as a French protectorate.
The area achieved independence from France in 1960 and changed its name to Burkina Faso in 1984. Repeated military coups were common in the country's first few decades. The last successful coup occurred in 1987 when Blaise COMPAORE deposed the former president, established a government, and ruled for 27 years. In October 2014, COMPAORE resigned following protests against his repeated efforts to amend the constitution's two-term presidential limit. An interim administration led a year-long transition period organizing presidential and legislative elections. In November 2015, Roch Marc Christian KABORE was elected president; he was reelected in November 2020.
Terrorist groups – including groups affiliated with Al-Qa'ida and the Islamic State – began attacks in the country in 2016 and conducted attacks in the capital in 2016, 2017, and 2018. By late 2020, terrorist attacks had resulted in approximately 4,000 deaths and over 1 million internally displaced persons. In addition to terrorism, the country faces a myriad of problems including high population growth, recurring drought, pervasive and perennial food insecurity, and limited natural resources. It is one of the world's poorest countries.
Government Type: presidential republic
Population: 21,382,659 (July 2021 est.)
Ethnic Groups: Mossi 52%, Fulani 8.4%, Gurma 7%, Bobo 4.9%, Gurunsi 4.6%, Senufo 4.5%, Bissa 3.7%, Lobi 2.4%, Dagara 2.4%, Tuareg/Bella 1.9%, Dioula 0.8%, unspecified/no answer 0.3%, other 7.2% (2010 est.)
Languages: French (official), native African languages belonging to Sudanic family spoken by 90% of the population
Religions: Muslim 61.5%, Roman Catholic 23.3%, traditional/animist 7.8%, Protestant 6.5%, other/no answer 0.2%, none 0.7% (2010 est.)
Interesting Facts information from the cia.gov website.  Read more about Burkina Faso