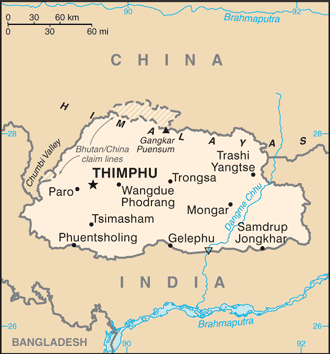 Aglow Status: Restricted
(The term "Restricted Nation" as used in Aglow is a nation where it is difficult or dangerous to be Christian.  Therefore the status of Aglow in nations indicated as Restricted is withheld.)
Capital: Thimphu
Pray:
Pray for all the resources and creativity needed to fulfill the intentions of God in the nation of Bhutan.
Pray for godly government leaders. Blessed is the nation whose God is The Lord, the people whom He has chosen for His own inheritance. Psalm 33:12
Proclaim:
Arise, shine; for your light has come! And the glory of the LORD is risen upon you. For behold, the darkness shall cover the earth, and deep darkness the people; but the LORD will arise over you, and His glory will be seen upon you.  Isaiah 60:1,2 (NKJV)
Lift up your heads, O you gates! Lift up, you everlasting doors! And the King of glory shall come in. Who is this King of glory? The Lord of hosts, He is the King of glory. Selah Psalm 24:9-10 (NKJV)
Interesting Facts About Bhutan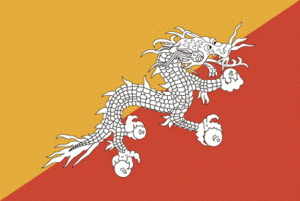 Background: In 1865, Britain and Bhutan signed the Treaty of Sinchulu, under which Bhutan would receive an annual subsidy in exchange for ceding some border land to British India.
Under British influence, a monarchy was set up in 1907; three years later, a treaty was signed whereby the British agreed not to interfere in Bhutanese internal affairs, and Bhutan allowed Britain to direct its foreign affairs.
This role was assumed by independent India after 1947. Two years later, a formal Indo-Bhutanese accord returned to Bhutan the areas annexed by the British, formalized the annual subsidies the country received, and defined India's responsibilities in defense and foreign relations. In March 2005, King Jigme Singye WANGCHUCK unveiled the government's draft constitution – which introduced major democratic reforms – and pledged to hold a national referendum for its approval.
In December 2006, the King abdicated the throne in favor of his son, Jigme Khesar Namgyel WANGCHUCK, in order to give him experience as head of state before the democratic transition. In early 2007, India and Bhutan renegotiated their treaty to allow Bhutan greater autonomy in conducting its foreign policy, although Thimphu continues to coordinate policy decisions in this area with New Delhi. Elections for seating the country's first parliament were completed in March 2008; the king ratified the country's first constitution in July 2008.
The disposition of some 43,000 Bhutanese refugees – housed in two UN refugee camps in Nepal – remains unresolved.
Government Type: constitutional monarchy
Population: 725,296 (July 2013 est.)
Note: the Factbook population estimate is consistent with the first modern census of Bhutan, conducted in 2005; previous Factbook population estimates for this country, which were on the order of three times the total population reported here, were based on Bhutanese government publications that did not include the census
Ethnic Groups: Bhote 50%, ethnic Nepalese 35% (includes Lhotsampas – one of several Nepalese ethnic groups), indigenous or migrant tribes 15%
Languages: Sharchhopka 28%, Dzongkha (official) 24%, Lhotshamkha 22%, other 26%
Religions: Lamaistic Buddhist 75%, Indian- and Nepalese-influenced Hinduism 25%
Interesting Facts information from the cia.gov website. Read more about Bhutan