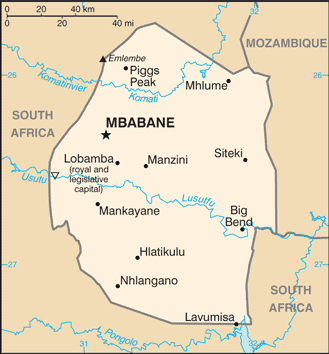 Aglow Status: No Aglow activity
Capital: Mbabane
Pray:
We are praying for Aglow to be affiliated in every nation in the world.  We are very close to reaching that goal.  Let's continue to move forward together, an army in the Spirit, to see Every nation touched, every heart changed.
Pray that an Aglow Prayer Group will be established in the capital city.
Pray for many to arise in Aglow International in Swaziland.
Proclaim:
Arise, shine; for your light has come!  And the glory of the LORD is risen upon you.  For behold, the darkness shall cover the earth, and deep darkness the people; but the LORD will arise over you, and His glory will be seen upon you.  Isaiah 60:1,2 (NKJV)
Lift up your heads, O you gates! Lift up, you everlasting doors! And the King of glory shall come in. Who is this King of glory? The Lord of hosts, He is he King of glory. Selah Psalm 24:9-10 (NKJV)
Interesting Facts About Swaziland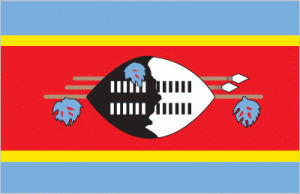 Background: Autonomy for the Swazis of southern Africa was guaranteed by the British in the late 19th century; independence was granted in 1968. Student and labor unrest during the 1990s pressured King MSWATI III, Africa's last absolute monarch, to grudgingly allow political reform and greater democracy, although he has backslid on these promises in recent years.
A constitution came into effect in 2006, but the legal status of political parties remains unclear. The African United Democratic Party tried unsuccessfully to register as an official political party in mid 2006. Talks over the constitution broke down between the government and progressive groups in 2007.
Swaziland recently surpassed Botswana as the country with the world's highest known HIV/AIDS prevalence rate.
Government Type: monarchy
Population: 1,403,362 (July 2013 est.)
Note: estimates for this country explicitly take into account the effects of excess mortality due to AIDS; this can result in lower life expectancy, higher infant mortality, higher death rates, lower population growth rates, and changes in the distribution of population by age and sex than would otherwise be expected
Ethnic Groups: African 97%, European 3%
Languages: English (official, used for government business), siSwati (official)
Religions: Zionist 40% (a blend of Christianity and indigenous ancestral worship), Roman Catholic 20%, Muslim 10%, other (includes Anglican, Baha'i, Methodist, Mormon, Jewish) 30%
Interesting Facts information from the cia.gov website. Read more about Swaziland