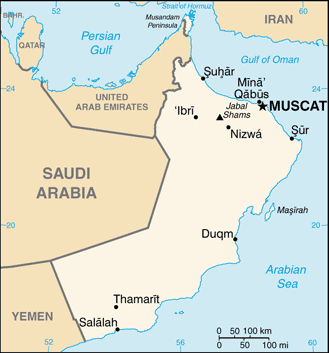 Aglow Status: Restricted
(The term "Restricted Nation" as used in Aglow is a nation where it is difficult or dangerous to be a Christian. Therefore the status of Aglow in nations indicated as Restricted is withheld.)
Capital: Muscat
Pray:
Pray for all the resources and creativity needed to fulfill the intentions of God in the nation of Oman.
Pray for godly government leaders. Blessed is the nation whose God is The Lord, the people whom He has chosen for His own inheritance. Psalm 33:12
Proclaim:
Arise, shine; for your light has come! And the glory of the LORD is risen upon you. For behold, the darkness shall cover the earth, and deep darkness the people; but the LORD will arise over you, and His glory will be seen upon you. Isaiah 60:1,2 (NKJV)
Lift up your heads, O you gates! Lift up, you everlasting doors! And the King of glory shall come in. Who is this King of glory? The Lord of hosts, He is the King of glory. Selah Psalm 24:9-10 (NKJV)
Interesting Facts About Oman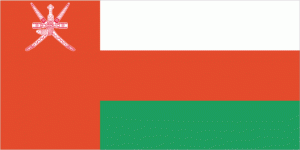 Background: The inhabitants of the area of Oman have long prospered on Indian Ocean trade. In the late 18th century, a newly established sultanate in Muscat signed the first in a series of friendship treaties with Britain.
Over time, Oman's dependence on British political and military advisors increased, but it never became a British colony. In 1970, QABOOS bin Said Al-Said overthrew his father, and he has since ruled as sultan. His extensive modernization program has opened the country to the outside world while preserving the longstanding close ties with the UK. Oman's moderate, independent foreign policy has sought to maintain good relations with all Middle Eastern countries. Inspired by the popular uprisings that swept the Middle East and North Africa beginning in January 2011, Omanis began staging marches and demonstrations to demand economic benefits, an end to corruption, and greater political rights.
In response to protester demands, QABOOS in 2011 pledged to implement economic and political reforms, such as granting legislative and regulatory powers to the Majlis al-Shura and introducing unemployment benefits. In August 2012, the Sultan announced a royal directive mandating the speedy implementation of a national job creation plan for thousands of public and private sector jobs.
As part of the government's efforts to decentralize authority and allow greater citizen participation in local governance, Oman successfully conducted its first municipal council elections in December 2012. Announced by the Sultan in 2011, the municipal councils will have the power to advise the Royal Court on the needs of local districts across Oman's 11 governorates.
Government Type: monarchy
Population: 3,154,134 (July 2013 est.)
Note: includes 577,293 non-nationals
Ethnic Groups: Arab, Baluchi, South Asian (Indian, Pakistani, Sri Lankan, Bangladeshi), African
Languages: Arabic (official), English, Baluchi, Urdu, Indian dialects
Religions: Ibadhi Muslim (official) 75%, other (includes Sunni Muslim, Shia Muslim, Hindu) 25%
Interesting Facts information from the cia.gov website. Read more about Oman