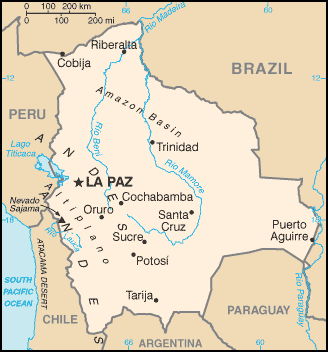 Aglow Leader:
Patricia E. Cortés Gordillo de Cervantes
National Board President
Capital: La Paz (administrative capital)
Pray:
There have been predictions of an earthquake in La Paz as judgment for the idolatry of pagan Andean beliefs.  Pray for redemption of the land that stops such judgment.  Pray that God's grace protects the people and land of Bolivia.
For it is God who is at work in you, both to will and to work for His good pleasure. – Philippians 2:13
If two of you agree on earth about anything that they may ask, it shall be done for them by My Father who is in heaven.  For where two or three have gathered together in My name, I am there in their midst. – Matthew 18:19-20
Pray for God to guide the leaders of Bolivia in support of the Church in decisions regarding bill "LEY 351" which aims to limit religious freedom.  May the hearts of the people be heard.
Pray for Bolivia Aglow to maintain unity in faith and to walk in one spirit and like-mindedness.  May God increase Aglow in Bolivia to partner with the establishment of God's Kingdom in the nation.
Proclaim:
We proclaim that Bolivia first seeks God's Kingdom and justice.
Seek first His kingdom and His righteousness, and all these things will be added to you. – Matthew 6:33
We proclaim that Bolivia is filled with the knowledge of God's will.
For this reason also, since the day we heard of it, we have not ceased to pray for you and to ask that you may be filled with the knowledge of His will in all spiritual wisdom and understanding. – Colossians 1:9
We proclaim that God's grace and kindness embraces Bolivia.  His Kingdom will be established in this nation.
Interesting Facts About Bolivia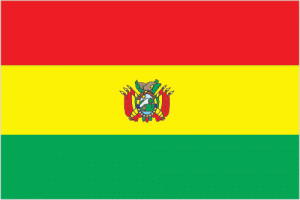 Background: Bolivia, named after independence fighter Simon BOLIVAR, broke away from Spanish rule in 1825; much of its subsequent history has consisted of a series of nearly 200 coups and countercoups.
Democratic civilian rule was established in 1982, but leaders have faced difficult problems of deep-seated poverty, social unrest, and illegal drug production.
In December 2005, Bolivians elected Movement Toward Socialism leader Evo MORALES president – by the widest margin of any leader since the restoration of civilian rule in 1982 – after he ran on a promise to change the country's traditional political class and empower the nation's poor, indigenous majority.
However, since taking office, his controversial strategies have exacerbated racial and economic tensions between the Amerindian populations of the Andean west and the non-indigenous communities of the eastern lowlands. In December 2009, President MORALES easily won reelection, and his party took control of the legislative branch of the government, which will allow him to continue his process of change. In October 2011, the country held its first judicial elections to appoint judges to the four highest courts.
Government Type: republic
Note – the new constitution defines Bolivia as a "Social Unitarian State"
Population: 10,461,053 (July 2013 est.)
Ethnic Groups: Quechua 30%, mestizo (mixed white and Amerindian ancestry) 30%, Aymara 25%, white 15%
Languages: Spanish (official) 60.7%, Quechua (official) 21.2%, Aymara (official) 14.6%, foreign languages 2.4%, other 1.2% (2001 census)
Religions: Roman Catholic 95%, Protestant (Evangelical Methodist) 5%
Interesting Facts information from the cia.gov website. Read more about Bolivia