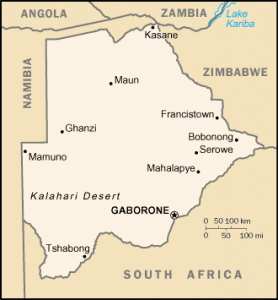 Aglow Leader: Smitta Moalosi,
National Committee President
Capital:  Gaborone
Pray:
Pray that the Presence of God in Botswana Aglow is demonstrated through love that transforms people's lives and miracles that declare the goodness of God.
Pray for rain.  Botswana is partly desert and rainfall is unreliable.
Pray for a stronger economy.
Proclaim:
The Kingdom of God is rising with power like the waters cover the sea in Botswana.  There is a rising cloud of worship in the Presence of God, particularly among young people.  We proclaim God's Presence as a protection over the people of Botswana and that His goodness, mercy and grace will abound.
Interesting Facts About Botswana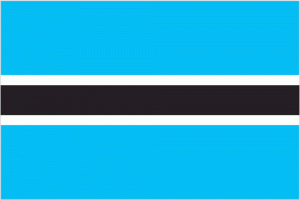 Background: Formerly the British protectorate of Bechuanaland, Botswana adopted its new name upon independence in 1966. More than four decades of uninterrupted civilian leadership, progressive social policies, and significant capital investment have created one of the most stable economies in Africa. Mineral extraction, principally diamond mining, dominates economic activity, though tourism is a growing sector due to the country's conservation practices and extensive nature preserves. Botswana has one of the world's highest known rates of HIV/AIDS infection, but also one of Africa's most progressive and comprehensive programs for dealing with the disease.
Government type: Parliamentary Republic
Population: 2,127,825 (July 2013 est.)
Ethnic Groups: Tswana (or Setswana) 79%, Kalanga 11%, Basarwa 3%, other, including Kgalagadi and white 7%
Languages: Setswana 78.2%, Kalanga 7.9%, Sekgalagadi 2.8%, English (official) 2.1%, other 8.6%, unspecified 0.4% (2001 census)
Religions: Christian 71.6%, Badimo 6%, other 1.4%, unspecified 0.4%, none 20.6% (2001 census)
Interesting Facts Information from the cia.gov website.  Read more about Botswana