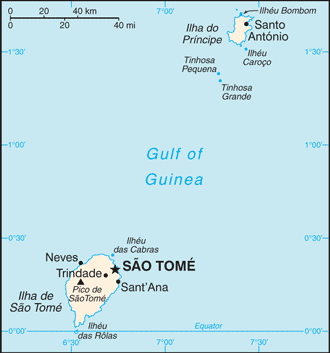 Aglow Status: No Aglow activity
Capital: Sao Tome
Pray:
We are praying for Aglow to be affiliated in every nation in the world. We are very close to reaching that goal. Let's continue to move forward together, an army in the Spirit, to see Every nation touched, every heart changed.
Pray that an Aglow Prayer Group will be established in the capital city.
Pray for many to arise in Aglow International in Sao Tome and Principe.
Proclaim:
Arise, shine; for your light has come!  And the glory of the LORD is risen upon you.  For behold, the darkness shall cover the earth, and deep darkness the people; but the LORD will arise over you, and His glory will be seen upon you.  Isaiah 60:1,2 (NKJV)
Lift up your heads, O you gates! Lift up, you everlasting doors! And the King of glory shall come in. Who is this King of glory? The Lord of hosts, He is the King of glory. Selah Psalm 24:9-10 (NKJV)
Interesting Facts About Sao Tome and Principe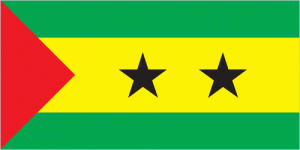 Background: Discovered and claimed by Portugal in the late 15th century, the islands' sugar-based economy gave way to coffee and cocoa in the 19th century – all grown with African plantation slave labor, a form of which lingered into the 20th century.
While independence was achieved in 1975, democratic reforms were not instituted until the late 1980s. The country held its first free elections in 1991, but frequent internal wrangling between the various political parties precipitated repeated changes in leadership and two failed coup attempts in 1995 and 2003. In 2012, three opposition parties combined in a no confidence vote to bring down the majority government of former Prime Minister Patrice TROVOADA. The new government of Prime Minister Gabriel Arcanjo Ferreira DA COSTA is entirely composed of opposition party members with limited experience in governance.
The recent discovery of oil in the Gulf of Guinea promises to attract increased attention to the small island nation.
Government Type: republic
Population: 186,817 (July 2013 est.)
Ethnic Groups: mestico, angolares (descendants of Angolan slaves), forros (descendants of freed slaves), servicais (contract laborers from Angola, Mozambique, and Cabo Verde), tongas (children of servicais born on the islands), Europeans (primarily Portuguese)
Languages: Portuguese (official)
Religions: Catholic 70.3%, Evangelical 3.4%, New Apostolic 2%, Adventist 1.8%, other 3.1%, none 19.4% (2001 census)
Interesting Facts information from the cia.gov website. Read more about Sao Tome and Principe