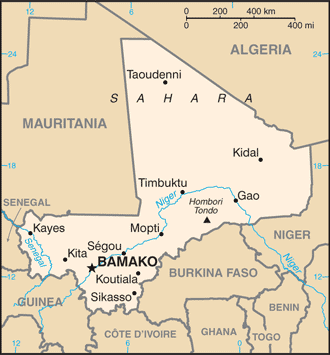 Aglow Leader: Leadership in transition
Capital: Bamako
Pray:
Pray for the Aglow groups and leaders to be strengthened.
Pray for all the resources and creativity needed to fulfill the intentions of God in the nation of Mali.
Pray for the Aglow prayer group in the Capital city.
Pray for godly government leaders. Blessed is the nation whose God is The Lord, the people whom He has chosen for His own inheritance. Psalm 33:12
Proclaim:
Arise, shine; for your light has come!  And the glory of the LORD is risen upon you.  For behold, the darkness shall cover the earth, and deep darkness the people; but the LORD will arise over you, and His glory will be seen upon you.  Isaiah 60:1,2 (NKJV)
Lift up your heads, O you gates! Lift up, you everlasting doors! And the King of glory shall come in. Who is this King of glory? The Lord of hosts, He is he King of glory. Selah Psalm 24:9-10 (NKJV)
Interesting Facts About Mali
Background: The Sudanese Republic and Senegal became independent of France in 1960 as the Mali Federation. When Senegal withdrew after only a few months, what formerly made up the Sudanese Republic was renamed Mali. Rule by dictatorship was brought to a close in 1991 by a military coup that ushered in a period of democratic rule.
President Alpha KONARE won Mali's first two democratic presidential elections in 1992 and 1997. In keeping with Mali's two-term constitutional limit, he stepped down in 2002 and was succeeded by Amadou TOURE, who was elected to a second term in 2007 elections that were widely judged to be free and fair.
Malian returnees from Libya in 2011 exacerbated tensions in northern Mali, and Tuareg ethnic militias started a rebellion in January 2012. Low- and mid-level soldiers, frustrated with the poor handling of the rebellion overthrew TOURE on 22 March. Intensive mediation efforts led by the Economic Community of West African States (ECOWAS) returned power to a civilian administration in April with the appointment of interim President Dioncounda TRAORE.
The post-coup chaos led to rebels expelling the Malian military from the three northern regions of the country and allowed Islamic militants to set up strongholds. Hundreds of thousands of northern Malians fled the violence to southern Mali and neighboring countries, exacerbating regional food insecurity in host communities. A military intervention to retake the three northern regions began in January 2013 and within a month most of the north had been retaken.
In a democratic presidential election conducted in July and August of 2013, Ibrahim Boubacar KEITA was elected president.
Government Type: republic
Population: 15,968,882 (July 2013 est.)
Ethnic Groups: Mande 50% (Bambara, Malinke, Soninke), Peul 17%, Voltaic 12%, Songhai 6%, Tuareg and Moor 10%, other 5%
Languages: French (official), Bambara 46.3%, Peul/foulfoulbe 9.4%, Dogon 7.2%, Maraka/soninke 6.4%, Malinke 5.6%, Sonrhai/djerma 5.6%, Minianka 4.3%, Tamacheq 3.5%, Senoufo 2.6%, unspecified 0.6%, other 8.5%
Religions: Muslim 94.8%, Christian 2.4%, Animist 2%, none 0.5%, unspecified 0.3% (2009 Census)
Interesting Facts information from the cia.gov website. Read more about Mali