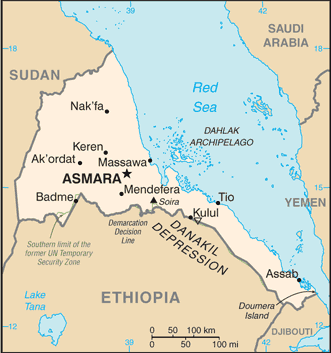 Aglow Status: No Aglow activity
Capital: Asmara
Pray:
We are praying for Aglow to be affiliated in every nation in the world. We are very close to reaching that goal. Let's continue to move forward together, an army in the Spirit, to see Every nation touched, every heart changed.
Pray that an Aglow Prayer Group will be established in the capital city.
Pray for many to arise in Aglow International in Eritrea.
Proclaim:
Arise, shine; for your light has come! And the glory of the LORD is risen upon you. For behold, the darkness shall cover the earth, and deep darkness the people; but the LORD will arise over you, and His glory will be seen upon you. Isaiah 60:1,2 (NKJV)
Lift up your heads, O you gates! Lift up, you everlasting doors! And the King of glory shall come in. Who is this King of glory? The Lord of hosts, He is the King of glory. Selah Psalm 24:9-10 (NKJV)
Interesting Facts About Eritrea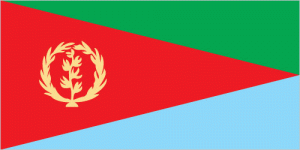 Background: The UN established Eritrea as an autonomous region within the Ethiopian federation in 1952. Ethiopia's full annexation of Eritrea as a province 10 years later sparked a violent 30-year struggle for independence that ended in 1991 with Eritrean rebels defeating government forces. Eritreans overwhelmingly approved independence in a 1993 referendum. ISAIAS Afworki has been Eritrea's only president since independence; his rule, particularly since 2001, has been highly autocratic and repressive. His government has created a highly militarized society by pursuing an unpopular program of mandatory conscription into national service, sometimes of indefinite length. A two-and-a-half-year border war with Ethiopia that erupted in 1998 ended under UN auspices in December 2000. The Eritrea-Ethiopia Boundary Commission (EEBC) created in April 2003 was tasked "to delimit and demarcate the colonial treaty border based on pertinent colonial treaties (1900, 1902, and 1908) and applicable international law." Eritrea for several years hosted a UN peacekeeping operation that monitored a 25 km-wide Temporary Security Zone. The EEBC on 30 November 2007 remotely demarcated the border, assigning the town of Badme to Eritrea, despite Ethiopia's maintaining forces there from the time of the 1998-2000 war. An increasingly hostile Eritrea insisted that the UN terminate its peacekeeping mission on 31 July 2008. Eritrea has accepted the EEBC's "virtual demarcation" decision and repeatedly called on Ethiopia to remove its troops. Ethiopia has not accepted the demarcation decision, and neither party has entered into meaningful dialogue to resolve the impasse. Eritrea is subject to several UN Security Council Resolutions (from 2009, 2011, and 2012) imposing various military and economic sanctions, in view of evidence that it has supported armed opposition groups in the region.
Government Type: transitional government
Note: following a successful referendum on independence for the Autonomous Region of Eritrea on 23-25 April 1993, a National Assembly, composed entirely of the People's Front for Democracy and Justice or PFDJ, was established as a transitional legislature and a Constitutional Commission was established to draft a constitution; ISAIAS Afworki was named president by the transitional legislature; the constitution, ratified in May 1997, did not enter into effect, pending parliamentary and presidential elections; parliamentary elections were scheduled in December 2001 but were postponed indefinitely; currently the PFDJ is the sole legal party and controls all national, regional, and local political offices
Population: 6,233,682 (July 2013 est.)
Ethnic Groups: nine recognized ethnic groups: Tigrinya 55%, Tigre 30%, Saho 4%, Kunama 2%, Rashaida 2%, Bilen 2%, other (Afar, Beni Amir, Nera) 5% (2010 est.)
Languages: Tigrinya (official), Arabic (official), English (official), Tigre, Kunama, Afar, other Cushitic languages
Religions: Muslim, Coptic Christian, Roman Catholic, Protestant
Interesting Facts information from the cia.gov website. Read more about Eritrea