Aglow Status: No Aglow activity
Capital: Moroni
Pray:
We are praying for Aglow to be affiliated in every nation in the world. We are very close to reaching that goal. Let's continue to move forward together, an army in the Spirit, to see Every nation touched, every heart changed.
Pray that an Aglow Prayer Group will be established in the capital city.
Pray for many to arise in Aglow International in Comoros.
Proclaim:
Arise, shine; for your light has come! And the glory of the LORD is risen upon you. For behold, the darkness shall cover the earth, and deep darkness the people; but the LORD will arise over you, and His glory will be seen upon you. Isaiah 60:1,2 (NKJV)
Lift up your heads, O you gates! Lift up, you everlasting doors! And the King of glory shall come in. Who is this King of glory? The Lord of hosts, He is the King of glory. Selah Psalm 24:9-10 (NKJV)
Interesting Facts About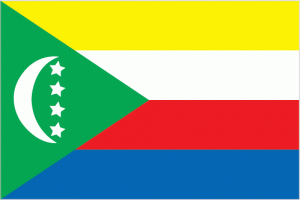 Background: Comoros has endured more than 20 coups or attempted coups since gaining independence from France in 1975.
In 1997, the islands of Anjouan and Moheli declared independence from Comoros. In 1999, military chief Col. AZALI seized power of the entire government in a bloodless coup, and helped negotiate the 2000 Fomboni Accords power-sharing agreement in which the federal presidency rotates among the three islands, and each island maintains its local government.
AZALI won the 2002 federal presidential election, and each island in the archipelago elected its president. AZALI stepped down in 2006 and President SAMBI was elected to office. In 2007, Mohamed BACAR effected Anjouan's de-facto secession from the Union of Comoros, refusing to step down when Comoros' other islands held legitimate elections in July.
The African Union (AU) initially attempted to resolve the political crisis by applying sanctions and a naval blockade to Anjouan, but in March 2008 the AU and Comoran soldiers seized the island. The island's inhabitants generally welcomed the move. In May 2011, Ikililou DHOININE won the presidency in peaceful elections widely deemed to be free and fair.
Government Type: republic
Population: 752,288 (July 2013 est.)
Ethnic Groups: Antalote, Cafre, Makoa, Oimatsaha, Sakalava
Languages: Arabic (official), French (official), Shikomoro (a blend of Swahili and Arabic)
Religions: Sunni Muslim 98%, Roman Catholic 2%
Interesting Facts information from the cia.gov website. Read more about Comoros