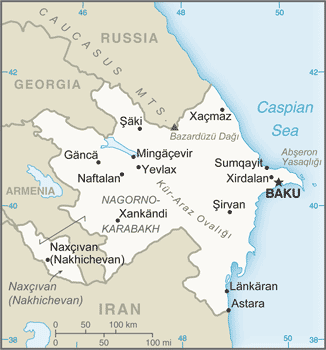 Aglow Status: Restricted
(The term "Restricted Nation" as used in Aglow is a nation where it is difficult or dangerous to be a Christian. Therefore the status of Aglow in nations indicated as Restricted is withheld.)
Capital: Baku (Baki, Baky)
Pray:
Pray for all the resources and creativity needed to fulfill the intentions of God in the nation of Azerbaijan.
Pray for godly government leaders. Blessed is the nation whose God is The Lord, the people whom He has chosen for His own inheritance. Psalm 33:12
Proclaim:
Arise, shine; for your light has come! And the glory of the LORD is risen upon you. For behold, the darkness shall cover the earth, and deep darkness the people; but the LORD will arise over you, and His glory will be seen upon you. Isaiah 60:1,2 (NKJV)
Lift up your heads, O you gates! Lift up, you everlasting doors! And the King of glory shall come in. Who is this King of glory? The Lord of hosts, He is the King of glory. Selah Psalm 24:9-10 (NKJV)
Interesting Facts About Azerbaijan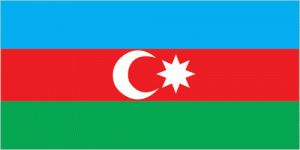 Background: Azerbaijan – a nation with a majority-Turkic and majority-Shia Muslim population – was briefly independent (from 1918 to 1920) following the collapse of the Russian Empire; it was subsequently incorporated into the Soviet Union for seven decades.
Azerbaijan has yet to resolve its conflict with Armenia over Nagorno-Karabakh, a primarily Armenian-populated region that Moscow recognized in 1923 as an autonomous region within Soviet Azerbaijan after Armenia and Azerbaijan disputed the status of the territory. Armenia and Azerbaijan began fighting over the area in 1988; the struggle escalated after both countries attained independence from the Soviet Union in 1991.
By May 1994, when a cease-fire took hold, ethnic Armenian forces held not only Nagorno-Karabakh but also seven surrounding provinces in the territory of Azerbaijan. The OSCE Minsk Group, co-chaired by the United States, France, and Russia, is the framework established to mediate a peaceful resolution of the conflict. Corruption in the country is widespread, and the government, which eliminated presidential term limits in a 2009 referendum, has been accused of authoritarianism. Although the poverty rate has been reduced and infrastructure investment has increased substantially in recent years due to revenue from oil and gas production, reforms have not adequately addressed weaknesses in most government institutions, particularly in the education and health sectors.
In January 2012, Azerbaijan assumed a non-permanent seat on the UN Security Council for the 2012-13 term.
Government Type: republic
Population: 9,590,159 (July 2013 est.)
Ethnic Groups: Azerbaijani 91.6%, Lezgian 2%, Russian 1.3%, Armenian 1.3%, Talysh 1.3%, other 2.1%
Note: almost all Armenians live in the separatist Nagorno-Karabakh region (2009 est.)
Languages: Azerbaijani (Azeri) (official) 90.3%, Lezgi 2.2%, Russian 1.8%, Armenian 1.5%, other 3.3%, unspecified 1% (1999 census)
Religions: Muslim 93.4%, Russian Orthodox 2.5%, Armenian Orthodox 2.3%, other 1.8% (1995 est.)
Note: religious affiliation is still nominal in Azerbaijan; percentages for actual practicing adherents are much lower.
Interesting Facts information from the cia.gov website. Read more about Azerbaijan