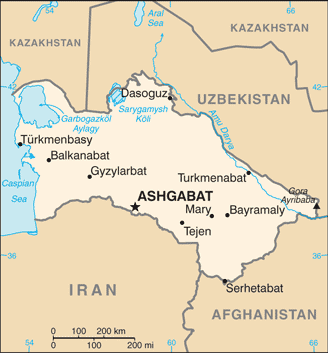 Aglow Status: No Aglow presence
Capital: Ashgabat (Ashkhabad)
Pray:
We are praying for Aglow to be affiliated in every nation in the world.  We are very close to reaching that goal.  Let's continue to move forward together, an army in the Spirit, to see Every nation touched, every heart changed.
Pray that an Aglow Prayer Group will be established in the capital city.
Pray for many to arise in Aglow International in Turkmenistan.
Proclaim:
Arise, shine; for your light has come! And the glory of the LORD is risen upon you. For behold, the darkness shall cover the earth, and deep darkness the people; but the LORD will arise over you, and His glory will be seen upon you. Isaiah 60:1,2 (NKJV)
Lift up your heads, O you gates! Lift up, you everlasting doors! And the King of glory shall come in. Who is this King of glory? The Lord of hosts, He is the King of glory. Selah Psalm 24:9-10 (NKJV)
Interesting Facts About Turkmenistan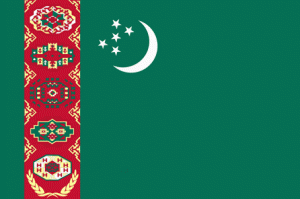 Background: Present-day Turkmenistan covers territory that has been at the crossroads of civilizations for centuries. The area was ruled in antiquity by various Persian empires, and was conquered by Alexander the Great, Muslim crusaders, the Mongols, Turkic warriors, and eventually the Russians. In medieval times Merv (today known as Mary) was one of the great cities of the Islamic world and an important stop on the Silk Road.
Annexed by Russia in the late 1800s, Turkmenistan later figured prominently in the anti-Bolshevik movement in Central Asia. In 1924, Turkmenistan became a Soviet republic; it achieved independence upon the dissolution of the USSR in 1991. Extensive hydrocarbon/natural gas reserves, which have yet to be fully exploited, have begun to transform the country. Turkmenistan is moving to expand its extraction and delivery projects. The Government of Turkmenistan is actively working to diversify its gas export routes beyond the still important Russian pipeline network. In 2010, new gas export pipelines that carry Turkmen gas to China and to northern Iran began operating, effectively ending the Russian monopoly on Turkmen gas exports.
President for Life Saparmurat NYYAZOW died in December 2006, and Turkmenistan held its first multi-candidate presidential election in February 2007. Gurbanguly BERDIMUHAMEDOW, a deputy cabinet chairman under NYYAZOW, emerged as the country's new president; he was chosen as president again in February 2012, in an election that the OSCE said lacked the freedoms necessary to create a competitive environment.
Government Type: defines itself as a secular democracy and a presidential republic; in actuality displays authoritarian presidential rule, with power concentrated within the presidential administration
Population: 5,113,040 (July 2013 est.)
Ethnic Groups: Turkmen 85%, Uzbek 5%, Russian 4%, other 6% (2003)
Languages: Turkmen (official) 72%, Russian 12%, Uzbek 9%, other 7%
Religions: Muslim 89%, Eastern Orthodox 9%, unknown 2%
Interesting Facts information from the cia.gov website. Read more about Turkmenistan