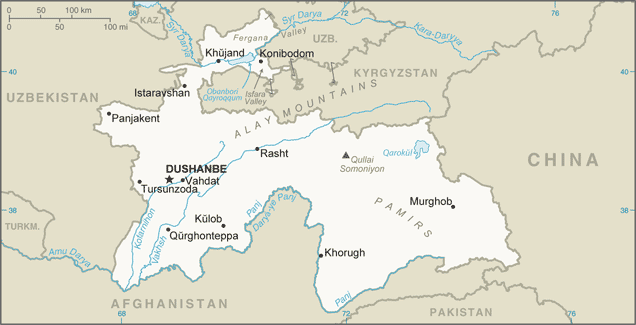 Aglow Status:
No Aglow presence
Capital: Dushanbe
Pray:
We are praying for Aglow to be affiliated in every nation in the world.  We are very close to reaching that goal.  Let's continue to move forward together, an army in the Spirit, to see Every nation touched, every heart changed.
Pray that an Aglow Prayer Group will be established in the capital city.
Pray for many to arise in Aglow International in Tajikistan.
Proclaim:
Arise, shine; for your light has come! And the glory of the LORD is risen upon you. For behold, the darkness shall cover the earth, and deep darkness the people; but the LORD will arise over you, and His glory will be seen upon you. Isaiah 60:1, 2 (NKJV)
Lift up your heads, O you gates! Lift up, you everlasting doors! And the King of glory shall come in. Who is this King of glory? The Lord of hosts, He is the King of glory. Selah Psalm 24:9-10 (NKJV)
Interesting Facts About Tajikistan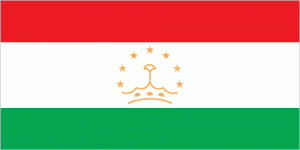 Background: The Tajik people came under Russian rule in the 1860s and 1870s, but Russia's hold on Central Asia weakened following the Revolution of 1917. Bolshevik control of the area was fiercely contested and not fully reestablished until 1925.
Much of present-day Sughd province was transferred from the Uzbek SSR to the newly formed Tajik SSR in 1929. Ethnic Uzbeks form a substantial minority in Tajikistan. Tajikistan became independent in 1991 following the breakup of the Soviet Union, and experienced a civil war between regional factions from 1992-97. Tajikistan endured several domestic security incidents in 2010-12, including a mass prison-break from a Dushanbe detention facility, the country's first suicide car bombing in Khujand, and armed conflict between government forces and local strongmen in the Rasht Valley and government forces and criminal groups in Gorno-Badakhshan Autonomous Oblast. The country remains the poorest in the former Soviet sphere.
Attention by the international community since the beginning of the NATO intervention in Afghanistan has brought increased economic and security assistance, which could create jobs and strengthen stability in the long term. Tajikistan joined NATO's Partnership for Peace in 2002, and became a member of the World Trade Organization in March 2013.
Government Type: republic
Population: 7,910,041 (July 2013 est.)
Ethnic Groups: Tajik 79.9%, Uzbek 15.3%, Russian 1.1%, Kyrgyz 1.1%, other 2.6% (2000 census)
Languages: Tajik (official), Russian widely used in government and business
Religions: Sunni Muslim 85%, Shia Muslim 5%, other 10% (2003 est.)
Interesting Facts information from the cia.gov website. Read more about Tajikistan