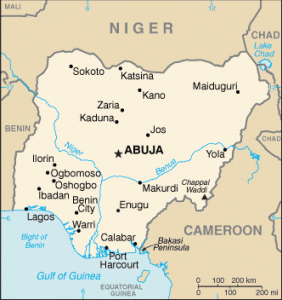 Aglow Leader: Olabisi (Bisi) Adeluyi
National Board President
Capital:  Abuja
Pray:
Pray for the Nigeria Aglow National conference in August.  Pray for safety for all who attend, especially in light of the current security issues in Nigeria.  Pray for fresh vision and encouragement to Aglow in this nation.  Pray that the Presence of God in them brings peace and order to the nation.  The theme is Revelation 4:1, "Come Up Higher".  We proclaim an elevation in the Spirit for those who attend the conference, for Aglow Nigeria, and for the nation.
There are serious security problems in Nigeria that lead to fear, loss of lives and property.  Pray for safety, protection and security for the Nigerian people.  Pray for people of integrity to serve the people of Nigeria.
There is much youth unemployment, armed robbery, prostitution, human trafficking and other vices in Nigeria.  Pray for godly solutions for these problems.  Pray for wise leaders with strategies to transform Nigeria.
Pray for revival fire of the Holy Spirit on Aglow International in Nigeria to bring increase, commitment, service and God's blessings
Pray for open doors for ministry through Aglow throughout Nigeria.  Pray for godly wisdom for Aglow leaders and members.
Proclaim:
We proclaim the release of God's great grace, righteousness, mercy and prosperity upon every region of Nigeria.  God's goodness and mercy will be upon Nigeria.
You will keep us in perfect peace because our mind is stayed on You, Lord.  Isaiah 26:3
Any militancy, insurgency or any other weapon fashioned against the children of God in Nigeria shall not prosper in Jesus Name.
Interesting Facts About Nigeria
Background: British influence and control over what would become Nigeria and Africa's most populous country grew through the 19th century. A series of constitutions after World War II granted Nigeria greater autonomy; independence came in 1960. Following nearly 16 years of military rule, a new constitution was adopted in 1999, and a peaceful transition to civilian government was completed. The government continues to face the daunting task of reforming a petroleum-based economy, whose revenues have been squandered through corruption and mismanagement, and institutionalizing democracy. In addition, Nigeria continues to experience longstanding ethnic and religious tensions. Although both the 2003 and 2007 presidential elections were marred by significant irregularities and violence, Nigeria is currently experiencing its longest period of civilian rule since independence. The general elections of April 2007 marked the first civilian-to-civilian transfer of power in the country's history.
Government Type: federal republic
Population: 174,507,539 (July 2013 est.)
Ethnic Groups: Nigeria, Africa's most populous country, is composed of more than 250 ethnic groups; the following are the most populous and politically influential: Hausa and Fulani 29%, Yoruba 21%, Igbo (Ibo) 18%, Ijaw 10%, Kanuri 4%, Ibibio 3.5%, Tiv 2.5%
Languages: English (official), Hausa, Yoruba, Igbo (Ibo), Fulani, over 500 additional indigenous languages
Religions: Muslim 50%, Christian 40%, indigenous beliefs 10%
Interesting Facts information from the cia.gov website.  Read more about Nigeria