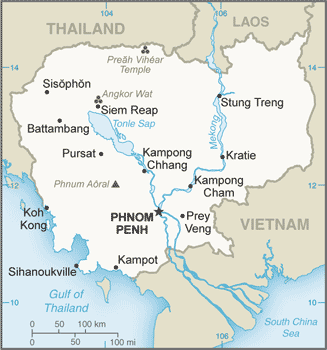 Aglow Leader: Asia Regional Committee
Capital: Phnom Penh
Pray:
Pray for the Aglow groups and leaders to be strengthened.
Pray for all the resources and creativity needed to fulfill the intentions of God in the nation of Cambodia.
Pray for the Aglow prayer group in the Capital city.
Pray for godly government leaders. Blessed is the nation whose God is The Lord, the people whom He has chosen for His own inheritance. Psalm 33:12
Proclaim:
Arise, shine; for your light has come! And the glory of the LORD is risen upon you. For behold, the darkness shall cover the earth, and deep darkness the people; but the LORD will arise over you, and His glory will be seen upon you. Isaiah 60:1,2 (NKJV)
Lift up your heads, O you gates! Lift up, you everlasting doors! And the King of glory shall come in. Who is this King of glory? The Lord of hosts, He is he King of glory. Selah Psalm 24:9-10 (NKJV)
Interesting Facts About Cambodia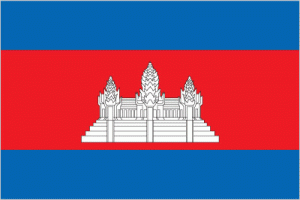 Background: Most Cambodians consider themselves to be Khmers, descendants of the Angkor Empire that extended over much of Southeast Asia and reached its zenith between the 10th and 13th centuries. Attacks by the Thai and Cham (from present-day Vietnam) weakened the empire, ushering in a long period of decline.
The king placed the country under French protection in 1863, and it became part of French Indochina in 1887. Following Japanese occupation in World War II, Cambodia gained full independence from France in 1953. In April 1975, after a five-year struggle, communist Khmer Rouge forces captured Phnom Penh and evacuated all cities and towns. At least 1.5 million Cambodians died from execution, forced hardships, or starvation during the Khmer Rouge regime under POL POT.
A December 1978 Vietnamese invasion drove the Khmer Rouge into the countryside, began a 10-year Vietnamese occupation, and touched off almost 13 years of civil war. The 1991 Paris Peace Accords mandated democratic elections and a ceasefire, which was not fully respected by the Khmer Rouge. UN-sponsored elections in 1993 helped restore some semblance of normalcy under a coalition government. Factional fighting in 1997 ended the first coalition government, but a second round of national elections in 1998 led to the formation of another coalition government and renewed political stability.
The remaining elements of the Khmer Rouge surrendered in early 1999. Some of the surviving Khmer Rouge leaders have been tried or are awaiting trial for crimes against humanity by a hybrid UN-Cambodian tribunal supported by international assistance. Elections in July 2003 were relatively peaceful, but it took one year of negotiations between contending political parties before a coalition government was formed.
In October 2004, King Norodom SIHANOUK abdicated the throne and his son, Prince Norodom SIHAMONI, was selected to succeed him. Local elections were held in Cambodia in April 2007, with little of the pre-election violence that preceded prior elections. National elections in July 2008 were relatively peaceful, as were commune council elections in June 2012.
Government Type: multiparty democracy under a constitutional monarchy
Population: 15,205,539 (July 2013 est.)
Note: estimates for this country take into account the effects of excess mortality due to AIDS; this can result in lower life expectancy, higher infant mortality, higher death rates, lower population growth rates, and changes in the distribution of population by age and sex than would otherwise be expected
Ethnic Groups: Khmer 90%, Vietnamese 5%, Chinese 1%, other 4%
Languages: Khmer (official) 95%, French, English
Religions: Buddhist (official) 96.4%, Muslim 2.1%, other 1.3%, unspecified 0.2% (1998 census)
Interesting Facts information from the cia.gov website. Read more about Cambodia