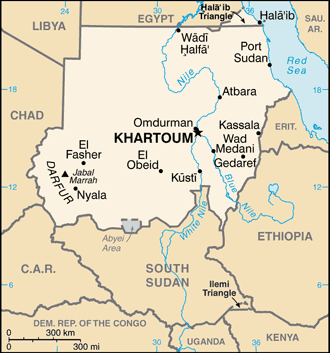 Aglow Status: Restricted
(The term "Restricted Nation" as used in Aglow is a nation where it is difficult or dangerous to be a Christian.  Therefore the status of Aglow in nations indicated as Restricted is withheld.)
Capital: Khartoum
Pray:
Pray for all the resources and creativity needed to fulfill the intentions of God in the nation of Sudan.
Pray for godly government leaders. Blessed is the nation whose God is The Lord, the people whom He has chosen for His own inheritance. Psalm 33:12
Proclaim:
Arise, shine; for your light has come!  And the glory of the LORD is risen upon you.  For behold, the darkness shall cover the earth, and deep darkness the people; but the LORD will arise over you, and His glory will be seen upon you.  Isaiah 60:1,2 (NKJV)
Lift up your heads, O you gates! Lift up, you everlasting doors! And the King of glory shall come in. Who is this King of glory? The Lord of hosts, He is the King of glory. Selah Psalm 24:9-10 (NKJV)
Interesting Facts About Sudan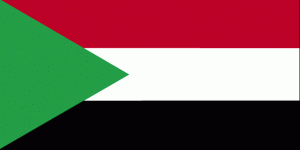 Background: Military regimes favoring Islamic-oriented governments have dominated national politics since independence from the UK in 1956.
Sudan was embroiled in two prolonged civil wars during most of the remainder of the 20th century. These conflicts were rooted in northern economic, political, and social domination of largely non-Muslim, non-Arab southern Sudanese.
The first civil war ended in 1972 but broke out again in 1983. The second war and famine-related effects resulted in more than four million people displaced and, according to rebel estimates, more than two million deaths over a period of two decades. Peace talks gained momentum in 2002-04 with the signing of several accords. The final North/South Comprehensive Peace Agreement (CPA), signed in January 2005, granted the southern rebels autonomy for six years followed by a referendum on independence for Southern Sudan.
The referendum was held in January 2011 and indicated overwhelming support for independence. South Sudan became independent on 9 July 2011. Since southern independence Sudan has been combating rebels from the Sudan People's Liberation Movement-North (SPLM-N) in Southern Kordofan and Blue Nile states. A separate conflict, which broke out in the western region of Darfur in 2003, has displaced nearly two million people and caused an estimated 200,000 to 400,000 deaths.
The UN took command of the Darfur peacekeeping operation from the African Union in December 2007. Peacekeeping troops have struggled to stabilize the situation, which has become increasingly regional in scope and has brought instability to eastern Chad. Sudan also has faced large refugee influxes from neighboring countries primarily Ethiopia and Chad. Armed conflict, poor transport infrastructure, and lack of government support have chronically obstructed the provision of humanitarian assistance to affected populations.
Government Type: Federal republic ruled by the National Congress Party the (NCP), which came to power by military coup in 1989; the CPA-mandated Government of National Unity, which since 2005 provided a percentage of leadership posts to the south Sudan-based Sudan People's Liberation Movement (SPLM), was disbanded following the secession of South Sudan.
Population: 34,847,910
Ethnic Groups: Sudanese Arab (approximately 70%), Fur, Beja, Nuba, Fallata
Languages: Arabic (official), English (official), Nubian, Ta Bedawie, Fur
Note: program of "Arabization" in process
Religions: Sunni Muslim, small Christian minority
Interesting Facts information from the cia.gov website. Read more about Sudan