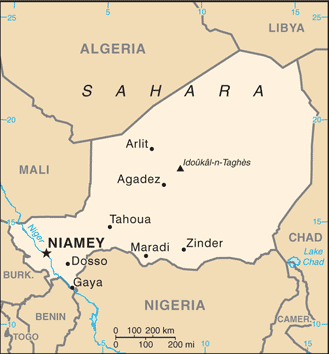 Aglow Leader: Marianne Mody
Local Leader
Capital: Niamey
Pray:
Pray for the Aglow groups and leaders to be strengthened.
Pray for all the resources and creativity needed to fulfill the intentions of God in the nation of Niger.
Pray for the Aglow prayer group in the Capital city.
Pray for godly government leaders. Blessed is the nation whose God is The Lord, the people whom He has chosen for His own inheritance. Psalm 33:12
Proclaim:
Arise, shine; for your light has come!  And the glory of the LORD is risen upon you.  For behold, the darkness shall cover the earth, and deep darkness the people; but the LORD will arise over you, and His glory will be seen upon you.  Isaiah 60:1,2 (NKJV)
Lift up your heads, O you gates! Lift up, you everlasting doors! And the King of glory shall come in. Who is this King of glory? The Lord of hosts, He is he King of glory. Selah Psalm 24:9-10 (NKJV)
Interesting Facts About Niger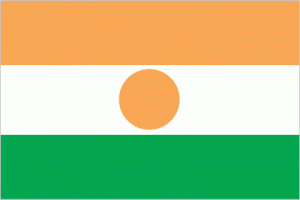 Background: Niger became independent from France in 1960 and experienced single-party and military rule until 1991, when Gen. Ali SAIBOU was forced by public pressure to allow multiparty elections, which resulted in a democratic government in 1993.
Political infighting brought the government to a standstill and in 1996 led to a coup by Col. Ibrahim BARE. In 1999, BARE was killed in a counter coup by military officers who restored democratic rule and held elections that brought Mamadou TANDJA to power in December of that year.
TANDJA was reelected in 2004 and in 2009 spearheaded a constitutional amendment that would allow him to extend his term as president. In February 2010, a military coup deposed TANDJA, immediately suspended the constitution, and dissolved the Cabinet. ISSOUFOU Mahamadou emerged victorious from a crowded field in the election following the coup and was inaugurated in April 2011. Niger is one of the poorest countries in the world with minimal government services and insufficient funds to develop its resource base.
The largely agrarian and subsistence-based economy is frequently disrupted by extended droughts common to the Sahel region of Africa. The Nigerien Movement for Justice, a predominately Tuareg ethnic group, emerged in February 2007, and attacked several military targets in Niger's northern region throughout 2007 and 2008. Successful government offensives in 2009 limited the rebels' operational capabilities. Niger is facing increased security concerns on its borders from various external threats including insecurity in Libya and spillover from the rebellion in Mali.
Government Type: republic
Population: 16,899,327 (July 2013 est.)
Ethnic Groups: Haoussa 55.4%, Djerma Sonrai 21%, Tuareg 9.3%, Peuhl 8.5%, Kanouri Manga 4.7%, other 1.2% (2001 census)
Languages: French (official), Hausa, Djerma
Religions: Muslim 80%, other (includes indigenous beliefs and Christian) 20%
Interesting Facts information from the cia.gov website. Read more about Niger