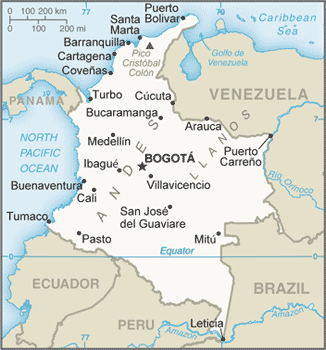 Aglow Leader: Sara Arroyo
National Board President
Capital: Bogota
Pray:
Pray for the Aglow groups and leaders to be strengthened.
Pray for all the resources and creativity needed to fulfill the intentions of God in the nation of Colombia.
Pray for the Aglow prayer group in the Capital city.
Pray for godly government leaders. Blessed is the nation whose God is The Lord, the people whom He has chosen for His own inheritance. Psalm 33:12
Proclaim:
Arise, shine; for your light has come! And the glory of the LORD is risen upon you. For behold, the darkness shall cover the earth, and deep darkness the people; but the LORD will arise over you, and His glory will be seen upon you. Isaiah 60:1,2 (NKJV)
Lift up your heads, O you gates! Lift up, you everlasting doors! And the King of glory shall come in. Who is this King of glory? The Lord of hosts, He is he King of glory. Selah Psalm 24:9-10 (NKJV)
Interesting Facts About Colombia
Background: Colombia was one of the three countries that emerged from the collapse of Gran Colombia in 1830 (the others are Ecuador and Venezuela). A nearly five-decade long conflict between government forces and anti-government insurgent groups, principally the Revolutionary Armed Forces of Colombia (FARC) heavily funded by the drug trade, escalated during the 1990s. More than 31,000 former paramilitaries had demobilized by the end of 2006 and the United Self Defense Forces of Colombia as a formal organization had ceased to function.
In the wake of the paramilitary demobilization, emerging criminal groups arose, whose members include some former paramilitaries. The insurgents lack the military or popular support necessary to overthrow the government, but continue attacks against civilians. Large areas of the countryside are under guerrilla influence or are contested by security forces.
In October 2012, the Colombian Government started formal peace negotiations with the FARC aimed at reaching a definitive bilateral ceasefire and incorporating demobilized FARC members into mainstream society and politics. The Colombian Government has stepped up efforts to reassert government control throughout the country, and now has a presence in every one of its administrative departments. Despite decades of internal conflict and drug related security challenges, Colombia maintains relatively strong democratic institutions characterized by peaceful, transparent elections and the protection of civil liberties.
Government Type: republic; executive branch dominates government structure
Population: 45,745,783 (July 2013 est.)
Ethnic Groups: mestizo 58%, white 20%, mulatto 14%, black 4%, mixed black-Amerindian 3%, Amerindian 1%
Languages: Spanish (official)
Religions: Roman Catholic 90%, other 10%
Interesting Facts information from the cia.gov website. Read more about Colombia