Aglow Leader: Ruzanna Torosyan
National Committee
Capital: Yerevan
Pray:
April 2 – Pray for National Elections
This is a critical time for Armenia as they shift from presidential leadership to parliamentary leadership. This election could impact the nation for many years.
May God's kingdom come and His will be done in Armenia as it is in heaven!
Nehemiah 8:10; 2 Chronicles 7:14; Daniel 7:14
Proclaim:
Proclaim God's faithfulness and mercy. The existence of Armenia is living proof of God's faithfulness and mercy.
For Armenia's sake I will not keep silent. For Yerevan's sake I will not remain quiet till her vindication shines out like the dawn, her salvation like a blazing torch. (from Isaiah 62:1 NIV)
I will give you every place where you set your foot.  Joshua 1:3
We declare the Name of the King of kings and the Lord of lords over Armenia.
God's will and Kingdom shall become a reality in Armenia as it is in heaven.
Interesting Facts About Armenia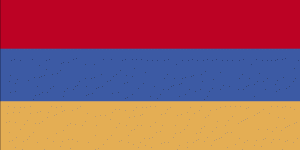 Background: Armenia prides itself on being the first nation to formally adopt Christianity (early 4th century). Despite periods of autonomy, over the centuries Armenia came under the sway of various empires including the Roman, Byzantine, Arab, Persian, and Ottoman.
During World War I in the western portion of Armenia, Ottoman Turkey instituted a policy of forced resettlement coupled with other harsh practices that resulted in at least 1 million Armenian deaths.
The eastern area of Armenia was ceded by the Ottomans to Russia in 1828; this portion declared its independence in 1918, but was conquered by the Soviet Red Army in 1920. Armenian leaders remain preoccupied by the long conflict with Azerbaijan over Nagorno-Karabakh, a primarily Armenian-populated region, assigned to Soviet Azerbaijan in the 1920s by Moscow.
Armenia and Azerbaijan began fighting over the area in 1988; the struggle escalated after both countries attained independence from the Soviet Union in 1991. By May 1994, when a cease-fire took hold, ethnic Armenian forces held not only Nagorno-Karabakh but also a significant portion of Azerbaijan proper.
The economies of both sides have been hurt by their inability to make substantial progress toward a peaceful resolution. Turkey closed the common border with Armenia in 1993 in support of Azerbaijan in its conflict with Armenia over control of Nagorno-Karabakh and surrounding areas, further hampering Armenian economic growth. In 2009, senior Armenian leaders began pursuing rapprochement with Turkey, aiming to secure an opening of the border, but Turkey has not yet ratified the Protocols normalizing relations between the two countries.
In September 2013, President SARGSIAN announced Armenia will join Russia, Belarus, and Kazakhstan as a member of the Customs Union.
Government Type: republic
Population: 3,064,267 (July 2013 est.)
Ethnic Groups: Armenian 97.9%, Yezidi (Kurd) 1.3%, Russian 0.5%, other 0.3% (2001 census)
Languages: Armenian (official) 97.7%, Yezidi 1%, Russian 0.9%, other 0.4% (2001 census)
Religions: Armenian Apostolic 94.7%, other Christian 4%, Yezidi (monotheist with elements of nature worship) 1.3%
Interesting Facts information from the cia.gov website. Read more about Armenia